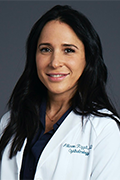 Allison E. Rizzuti, MD
Co-Director of Cornea Service
Associate Professor of Clinical Ophthalmology
Department of Ophthalmology
Background and Expertise:
Dr. Rizzuti is a board certified ophthalmologist who specializes in comprehensive ophthalmology, corneal & external disease and cataract surgery. She treats a wide variety of ocular problems including dry eye disease, infections of the cornea and conjunctiva, contact-lens related pathology, and auto-immune disease of the cornea. Her surgical expertise includes routine and complex cataract surgery, corneal transplantation, and surgery for ocular trauma. Dr Rizzuti is an Associate Professor of Clinical Ophthalmology at SUNY Downstate and is actively involved in the clinical and surgical training of ophthalmology residents at Kings County Hospital Center and Coney Island Hospital. She serves on the executive committee of the American Society of Ophthalmic Trauma, has been selected as a Member with Thesis of the Cornea Society and is a fellow of the American Academy of Ophthalmology. Dr Rizzuti is recognized as a New York Super Doctors® Rising Star.
Research Interests:
Dr. Rizzuti's clinical research focuses on the medical and surgical management of corneal and external disease, and on advances in cataract surgical technique. She is the author of numerous peer reviewed publications and textbook chapters.
Education:
Undergraduate: Barnard College of Columbia University
Medical School: SUNY Downstate College of Medicine
Residency: SUNY Downstate, Ophthalmology
Fellowship: SUNY Downstate, Cornea and Refractive Surgery
Raevis J, Karl M, Parendo A, Astafurov K, Dugue A, Agemy S, Rizzuti A, Tseng J, Scott W, Reaney-Perrotti K, Laudi J, Shrier E. Eyelid retraction discomfort with cotton‑tipped applicator, unimanual and speculum intravitreal injection techniques: Eyelid retraction technique randomized comparison trial (Eyelid RETRACT). Indian J Ophthalmol 2020.
Kaufman SK, Rolain MA, Rizzuti AE, Lazzaro DL. Anterior Segment Trauma; Evaluation, Considerations and Initial Management. American Academy of Ophthalmology, EyeWiki. February 2019.

Yazdanyar A,

Rizzuti AE

, Mechel E, Denisova K, Lazzaro DR. Gout Keratitis: A Case of Peripheral Ulcerative

Keratitis Secondary to Gout with a Review of the Literature. Cornea 2018 Mar;37(3):379-381
Shaik N, Ilyas G, Rizzuti AE. Corneal Keloid. Digit J Ophthamol. 2018 Jan 28;23(4)
Dua P, Shinder R, Laskar DB, Lazzaro DR, Rizzuti AE. A case of Hypertrophic Herpes Simplex Virus of the Eyelid and Cornea, Masquerading as IgG 4-related Disease. Am J Ophthalmol Case Rep. 2017 Dec 13;9:68-71
Fridman G, Rizzuti AE, Liao J, Rolain M, Deutsch J, Kaufman SC. Trypan Blue as a Surgical Adjunct in Pediatric Cataract Surgery. J Cataract Refract Surg. 2016 Dec (42), 1774–1778.
Rizzuti AE, Goldenberg A, Lazzaro DR. Amniotic Membrane Allografts; Development and Clinical Utility in Ophthalmology. Chronic Wound Care Management and Research. 2014 Dec(1):67-72.
Swanenberg IM, Rizzuti AE, Shinder R. Spontaneous Subperiosteal Hematoma Precipitated by Anxiety Attack. Orbit. 2013 Dec;32(6):402-4.
Rizzuti AE, Vastardi M, Hajee M, Lazzaro DR. Scope of Resident Ophthalmology Consultation Service and Patient Follow-up Rates at a Level 1 Trauma Center in Brooklyn, New York. Clin Ophthalmol. 2013;7:643-7
Frances, JH, Rizzuti AE, Abramson, DH. Chemotherapy for Retinoblastoma; Losing Sight of Visual Outcome. Retinal Physician, 2009.
Rizzuti AE, Dunkel IJ, Abramson DH. The Adverse Effects of Chemotherapy for Retinoblastoma. What Are They? Do We Know? Arch Ophthalmol. 2008 Jun;126(6):862-5.