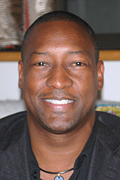 Bradley J. Phillips, MD
Clinical Assistant Professor of Ophthalmology
Department of Ophthalmology
(718) 270-1714

(718) 270-8922
Background and Expertise
Dr. Phillips is a graduate of Cornell University and SUNY-Stonybrook College of Medicine. He completed an internship at Long Island Jewish Medical Center and his residency at SUNY Downstate where he and subsequently completed a fellowship on neuro-ophthalmology with the esteemed Dr. Arthur H. Wolintz, former Department Chair and Distinguished Professor of Ophthalmology.
Dr. Phillips became renown in the Brooklyn community as a trailblazer in the area of cataract surgery when he pioneered the Department of Ophthalmology's offering of the no-stitch/no needle technique and multi-focal lens options, including the new multifocal and accommodating IOLs (premium lens options), to his cataract and presbyopic patients. For over ten years, this option continues to successfully offer patients the possibility of seeing well at varying distances, without the use of spectacles or contacts. The no-stitch cataract surgery enables the eye to heal fast and reduces recovery time significantly, allowing most patients to return to work or sports within days instead of weeks or months, as was common with older surgery methods.
Dr. Phillips also performs laser vision correction (LASIK) surgery.