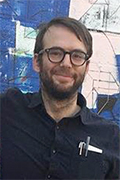 Michael Rose, MD
Assistant Professor
Infectious Diseases
Research Interests:
Bioethics, Tropical Medicine, Understanding public perceptions of science and medicine
Training and Education:
BA:

American University

MD:

SUNY Downstate

IM Residency: SUNY Downstate

ID Fellowship: SUNY Downstate
Why I Enjoy Working at Kings County
The siren song of Flatbush is never-ceasing, its pull as unremitting as the ocean's waves.
Teaching
Since 2018 I have been teaching a yearly elective for fourth year medical students in the philosophy of science and medicine. I believe that philosophy is an excellent tool for exploring the many unwritten and shifting assumptions that lie just below the surface of medicine's seemingly placid exterior. By exploring and critiquing these assumptions, I hope to better empower medical students as they navigate the changing face of medicine, through their training and beyond.
Aleksandr Khudyakov, Rafsan Ahmed, Chi Doan Huyang, Amir Dehghani, Zhonghua Li, and Michael Rose, "A Rare Indolent Course of Rhinocerebral Mucormycosis," Case Reports in Infectious Diseases, 27 Jan 2021
Rose M, Lapuebla A, Landman D, and Quale J. In Vitro and In Vivo Activity of a Novel Antisense Peptide Nucleic Acid Compound Against Multidrug-Resistant Acinetobacter baumannii, Microbial Drug Resistance. Ahead of Print, published online 9 September 2019.
Laskar D, Rose M, Gupta R, Tanowitz H, Haseeb M.A. Case Report: Monoclonal Gammopathy of Undetermined Significance is Associated with Loa loa Infection, The American Journal of Tropical Medicine and Hygiene. Volume 99 Issue 5, 7 November 2018, pages 1206-1210
Manning N, Balabanian G, Rose M, Landman D, and Quale J. Effect of Porins and blaKPC Expression on Activity of Imipenem with Relebactam in Klebsiella pneumoniae: Can Antibiotic Combinations Overcome Resistance? Microbial Drug Resistance. Volume 24 Issue 1, 24 January 2018, Pages 35-39
Iregui A, Heilman E, Augenbraun M, Rose M A 33-Year-Old With Human Immunodeficiency Virus/AIDS and Multiple Skin Lesions, Clinical Infectious Diseases, Volume 65, Issue 9, 16 October 2017, Pages 1593-4
Grodin L, Conigliaro A, Lee S, Rose M, Sinert R. Comparison of UTI antibiograms stratified by ED patient disposition. The American Journal of Emergency Medicine. Volume 35, Issue 9, September 2017, Pages 1269-1275
Rose M, Landman D, Quale J. Are community environmental surfaces near hospitals reservoirs for gram-negative nosocomial pathogens? American Journal of Infection Control. 42 (2014) 346-8