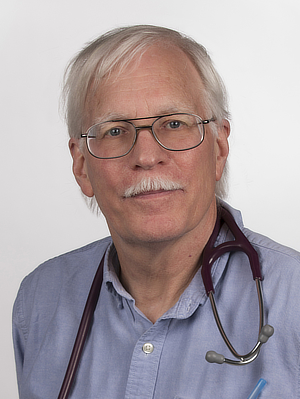 John Quale, MD
Professor of Medicine
Infectious Diseases
(718) 270-2148
(718) 270-2465
Dr. Quale has been affiliated with SUNY Downstate since medical school, and has been an attending physician in Infectious Diseases at NYC H+H/Kings County for over 25 years. He is Professor of Medicine and the hospital epidemiologist at Kings County. His research interests include various topics involving Infection Control & Prevention as well as mechanisms leading to multidrug resistance in Gram negative bacilli.
Research Interests:
Epidemiology and Mechanisms of Antimicrobial Resistance
Current projects:
Examining the mechanisms of resistance in multi-drug resistant Gram negative pathogens
Education and Training:
MD: SUNY Downstate
Residency and Fellowship at SUNY Downstate
Why I enjoy working at SUNY Downstate:
Friendly people and endless interesting cases. And the fellows always keep things interesting.
Mailing Address:
SUNY Downstate Medical Center
450 Clarkson Ave, MSC 77
Division of Infectious Diseases
Brooklyn, NY 11203