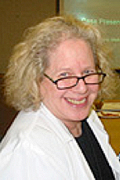 Margaret R. Hammerschlag, MD
Professor of Pediatrics and Medicine
Program Director, Pediatric Infectious Diseases
(718) 270-2097

(718) 270-1985
Research Interests:
Epidemiology, diagnosis and treatment of Chlamydia infections (C. trachomatis and C. pneumoniae), infection and asthma, Epidemiology and diagnosis of STIs in children being evaluated for suspected sexual abuse.
Current projects:
Effect of smoking on C. pneumoniae infection in a mouse model, In vitro activity of various antibiotics against C. trachomatis and C. pneumoniae.
Education and Training:
BA - Barnard College, 1968
MD - Albert Einstein College of Medicine, 1972
Residency in Pediatrics - University of Washington, Seattle, 1972-74
Fellowship in Infectious Diseases - Channing laboratory, Harvard Medical School, 1974-76
Instructor in Pediatrics - Harvard Medical School, 1976-78
Postdoctoral Fellow in Epidemiology - University of Washington, School of Public Health, 1978-80
Mailing Address:
SUNY Downstate Medical Center
Dept of Pediatrics, Box 49
Brooklyn, NY 11203
Smith-Norowitz T, Weaver D, Chorny V, Norowitz Y, Lent D, Hammerschlag M, Joks R, Kohlhoff S.Chlamydia pneumoniae induces interferon gamma responses in peripheral blood mononuclear cells in children with allergic asthma. Scand J Immunol, 2017; Jul;86(1):59-64.
Banniettis N, Joshi S, Kaushik S, Kohlhoff S, Hammerschlag MR. Diagnostic practices for suspected community acquired central nervous system infection in the post conjugate vaccine era. Pediatr Emerg Care, 2017 May 1. doi: 10.1097/PEC.0000000000001147. [Epub ahead of print]
Banniettis N, Thumu S, Weedon J, Szigeti A, Chotikanatis K, Hammerschlag MR, Kohlhoff SA. Seroprevalence of Chlamydia trachomatis in inner-city children and adolescents – implications for vaccine development. Sex Transm Dis 44(12):717-721, 2017.
Sharma R, Francois D, Hammerschlag MR. New antimicrobial agents for the treatment of staphylococcal infections in children. Pediatr Clin North Am, 64:1369-1387, 2017.
Ditkowsky J, Rahman A, Hammerschlag MR, Kohlhoff S, Smith-Norowitz TA. The cost-effectiveness of aChlamydia trachomatis vaccination program in young women in the United States. J Pediatr Infect Dis Soc, 2017 Sep 7. doi: 10.1093/jpids/pix072. [Epub ahead of print].