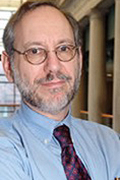 Kenneth Bromberg, MD
Professor of Pediatrics & Medicine
Attending in Pediatric Infectious Diseases
Educational Consultant to the Office of Academic Affairs
Academic Qualifications:
BS - SUNY Stonybrook
MD - State University of New York at Buffalo, School of Medicine
Internship and Residency - The NY Hospital, Cornell Medical Center, Pediatrics
Fellowship - Pediatric and Adult Infectious Diseases, Brown University Affiliated Hospitals (The Rhode Island Hospital, Miriam Hospital, Rogers Williams Hospital, The Providence VA Hospital), Providence RI
Why I enjoy working at SUNY Downstate:
It is the only academic medical center in Brooklyn. You can find anyone and anything you want to accomplish your goals. As I went to medical school at a more northern SUNY, I support the local branch of the people's medical school to pay back for that opportunity.
Current Projects:
Vaccine Advocacy as Chapter 2 AAP immunization representative
Member, NYC Childhood Immunization Coalition and DOH Vaccine Advisory Committee
NYC HPV regional Committee
Health Care provider attitudes as determinants of patient immunization status.
Bromberg K

, Clark-Golden M, Light H, Shah B, Marcellino L, Rivera M, Li P, Erdman D, Heath J, Bellini W. Mother and infant immunity to measles at birth and infant seroconversion at less than 12 months of age in an inner city population. J Pediatr 1994; 125:579-581.

Rawstron S, Mehta S, Bromberg K. Evaluation of a T. pallidum-specific IgM enzyme immunoassay and T. pallidum western blot antibody detection in the diagnosis of maternal and congenital syphilis. Sex Transm Dis. 2004 Feb;31(2):123-6.
Nolan TF, Bernstein HF, Blatter MMF, Bromberg K, Guerra FF, et al. Immunogenicity and safety of an inactivated hepatitis A vaccine administered concomitantly with diphtheria-tetanus-acellular pertussis and haemophilus influenzae type B vaccines to children less than 2 years of age. Pediatrics. 2006 Sep;118(3):e602-9.
Leonardi M, Bromberg K, Baxter R, Gardner JL, Klopfer S, Nicholson O, Brockley M, Trammel J, Leamy V, Williams W, Kuter B, Schodel F. Immunogenicity and Safety of MRRV and PCV-7 administered concomitantly in healthy children, Pediatrics. 2011 Dec;128(6): e1387-94
Wu D, Bromberg K, Jodorkovsky R. Invasive Group B Streptococcal Disease in Two Pediatric Patients with Systemic Lupus Erythematosus. Case Reports in Pediatrics. 2013. Article ID 896014, 3 pages, doi:10.1155/2013/89604
Rawstron SA, Jackman JM, Serebro E, Johnson G, Cabbad M, Bromberg K, Kondamudi,V, Sepkowitz D, Landman D. Perirectal Screening for Carbapenem-Resistant, Enterobacteriaceae Obtained From 100 Consecutive Healthy Pregnant Women in Labor, at a Brooklyn Hospital: Results and Risk Factors. Infect Control Hosp Epidemiol, 2018 Mar;39(3):369-371