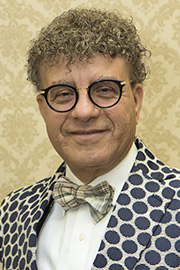 Samy McFarlane, MD, MPH, MBA
Professor
Physician Assistant Program
Education:
MD: School of Medicine, University of Alexandria
MPH: Urban Health & Epidemiology, SUNY Downstate Medical Center
MBA: George Washington University Business Administration in Healthcare
Clinical Practice:
Dr. McFarlane is a professor of Medicine, Emergency Medicine, and Radiology who served in several leadership positions including as Medical Director and Chief in the division of Endocrinology as well as Medical Director of Clinical Research in the College of Medicine. His clinical practice and research focused in areas of Diabetes and Cardiovascular Disease as well as Osteoporosis. He also serves as the Director of the Osteoporosis and Bone Densitometry Units at both University Hospital of Brooklyn and Kings County Hospital Center. Dr. McFarlane has served as the Medical Director for the SUNY Downstate Physician Assistant Program since 2008.
Responsibilities:
Provides consultation to the program leadership and faculty on all aspects of the PA curriculum, to ensure appropriate clinical depth, focus and relevance in the practice of medicine in the urban community.
Assists in the identification and recruitment of clinical training sites and clinical preceptors.
Participates in student evaluation and admission process.
Provides guidance and mentorship for PA faculty research endeavors and provides didactic instruction in Pathophysiology, Adult Primary Care Medicine, Health Promotion and Disease Prevention, and preceptorship in Internal Medicine Clerkship and Endocrine Sub-specialty Clerkship.