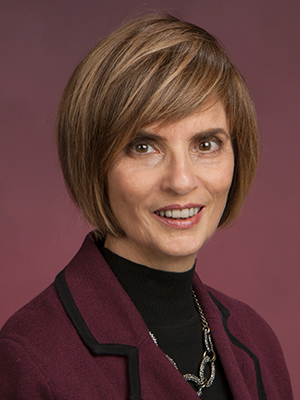 Joanne S. Katz, PT, DPT, PhD
Chair and Associate Professor
Physical Therapy
Dr. Katz received her transitional DPT degree from Stony Brook University in 2005. She received her PhD in Physical Therapy (Pathokinesiology) from New York University in 1996. She completed her entry-level physical therapy education and Master's degree in Applied Physiology from Columbia University. She completed a four-year Feldenkrais Practitioner Training Program and eight-week Neuro-Developmental Treatment (NDT) course. Dr. Katz is a recipient of two research grants during her doctoral study. Her first grant was from the U.S. Department of Education and the second grant was from the National Institutes of Health. She is active in research, with a focus in several areas, including neurodevelopmental issues in infants and pathomechanics of gait. She is currently involved in several research studies, including reliability and validity of Prechtl's assessment of general movements of infants, norm-referencing of the Neurodevelopmental Infant Screening Tool (NIST) which she developed with a pediatrician, and examining the influence of caffeine administration on neurodevelopmental outcome in very preterm infants. Dr. Katz's clinical interests are in the assessment of motor control problems in infants and young children and treatment of children with cerebral palsy. She spent the past decade as a physical therapy consultant at Downstate's high-risk neurodevelopmental clinic. She has presented her research at a number of American Physical Therapy Association annual conferences. She has co-authored several articles and numerous abstracts in peer-reviewed journals as well as two book chapters. She is currently a manuscript reviewer for Pediatric Physical Therapy, and is currently active in the New York Physical Therapy Association as Corresponding Secretary for the Brooklyn/Staten Island District, and delegate to the Delegate Assembly.
Selected recent publications:
Perenyi A, Amodio J, Katz JS, et al. Clinical utility of corpus callosum measurements in head sonograms of preterm infants: a cohort study. BMJ Open, 2013; 3:e002499. Doi:10.1136/bmjopen-2012-002499.
Perenyi A, Katz J, Sklar T, Flom P. Neurodevelopmental outcome and risk factors for impaired development of African American infants in an underserved urban population: a population-based study. Journal of Health Care for the Poor and Underserved, 2011; 22, 983-994.
Perenyi A, Katz J, Flom P, Regensberg S, Sklar T. Analysis of compliance, morbidities and outcome in neurodevelopmental follow-up visits in urban African-American infants at environmental risk. Journal of Developmental Origins of Health and Disease. 2010; 1, 396-402.
Academic Responsibilities:
Kinesiology, Research Methods and Evidence-Based Practice, Capstone Project I-IV, Pediatric Physical Therapy, Pediatrics module of Medical Sciences, and Differential Diagnosis