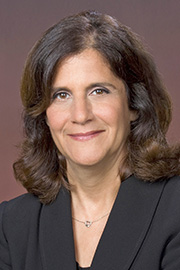 Joyce S. Sabari, PhD, OTR, FAOTA
Professor Emeritus
Occupational Therapy
School of Health Professions
Education:
Doctor of Philosophy, Occupational Therapy, New York University
Master of Arts, Physiological Psychology, New York University
Bachelor of Science, Occupational Therapy, University of Pennsylvania
Advanced Credentials:
Fellow of the American Occupational Therapy Association (FAOTA), for Advancement of Neurorehabilitation Practice, since 2002
Board Certification in Neurorehabilitation (B.C.N.), by the American Occupational Therapy Association – 1997 - 2005
Certification in Neurodevelopmental Treatment of Adult Hemiplegia, by the Neurodevelopmental Treatment Association - since 1979
Personal Statement:
I view occupational therapy education as a socialization process, in which students develop specific skills, knowledge, values, and attitudes that constitute membership in their new profession. Throughout my professional career, my clinical and academic focus has been on occupational therapy intervention for individuals with functional loss due to stroke and other neurological disabilities. I have been recognized as a Fellow of the American Occupational Therapy Association for advancement of neurorehabilitation practice. Publications include journal articles, therapy guidelines, and textbook chapters about motor learning, motor function after stroke, standardized assessment of performance, matching relevant assistive devices to individual needs, and long-term adjustment to community living.
Scholarly Interests:
Please see https://www.researchgate.net/profile/Joyce_Sabari for more information about research and publications