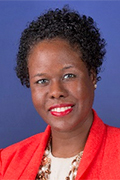 Teresa Y. Smith, MD, MSEd, FACEP
Associate Dean of Graduate Medical Education and Affiliations
Designated Institutional Official
Associate Professor of Clinical Emergency Medicine
(718) 270-8906

(718) 270-2667
Biography
Teresa Yvonne Smith, MD, MSEd, FACEP is an emergency physician who has dedicated her training to working in New York City's urban communities. Dr. Smith is currently the Associate Dean of Graduate Medical Education and Affiliations, overseeing approximately 1,000 house staff physicians across the campus. She is also an Associate Professor of Clinical Emergency and works clinically in the Kings County Hospital Emergency Department.
After completing her undergraduate degree at Spelman College, Dr. Smith attended NYU School of Medicine and earned her Doctor of Medicine degree. She completed her Emergency Medicine (EM) residency training at NYU/Bellevue Hospital and fellowship in Emergency Ultrasonography at SUNY Downstate/ Kings County Hospital. She completed her Master in Medical Education at the University of Pennsylvania.
Dr. Smith has spent her career championing diversity and inclusion in medicine and received the Dr. Dale Blackstock Award in Teaching and Excellence for her demonstrated commitment to advising and mentoring medical students and trainees. She was also honored among the National Minority Quality Forum's 40 Under 40 Minority Leaders in 2019.
Dr. Smith is a strong advocate for vaccine education, recently penning an op-ed and recording a public service announcement about the importance of vaccination, particularly in communities of color.