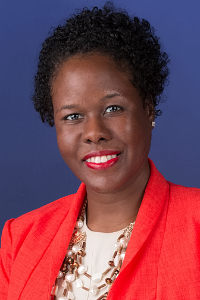 Teresa Y. Smith, MD, MSEd, FACEP
Associate Dean of Graduate Medical Education and Affiliations
Designated Institutional Official
Associate Professor of Clinical Emergency Medicine
(718) 270-8906
(718) 270-2667
Biography
TERESA Y. SMITH, M.D., MSED, FACEP
Associate Dean of Graduate Medical Education and Affiliations & Designated Institutional Official
Professor of Clinical Emergency Medicine
SUNY Downstate Health Sciences University
Dr. Teresa Yvonne Smith, M.D., MSED, FACEP, currently serves as the Associate Dean of Graduate Medical Education and DIO at SUNY Downstate Health Sciences University, overseeing over 1,000 house staff physicians across the campus. She was previously the Program Director of the Emergency Medicine training program, heralded as one of the most extensive programs to train emergency physicians in the country.
Dr. Smith is a Professor of Clinical Emergency Medicine with tenure and works clinically in the Emergency Department. After completing her undergraduate degree at Spelman College, Dr. Smith attended NYU School of Medicine and finished her training in emergency medicine at NYU/Bellevue Hospital. She completed an Emergency Ultrasound Fellowship at SUNY Downstate and obtained her Master's in Medical Education from the University of Pennsylvania. She is currently on track to complete her Master of Business Administration/Health Service Administration from SUNY Oswego.
Dr. Smith's extensive career is focused on diversity, equity, and inclusion in medicine. She received the Dr. Dale Blackstock Award in Teaching and Excellence for her commitment to advising and mentoring medical students and trainees. She has authored many articles addressing diversity, equity, inclusion, and how to diversify the physician workforce. Dr. Smith has served as a consultant to accreditation agencies, and state and national governmental bodies for her expertise. She was also honored among the National Minority Quality Forum's 40 Under 40 Minority Leaders in 2019.
In 2022, Dr. Smith led the institution in receiving the ACGME's Barbara Ross-Lee, DO Diversity, Equity, and Inclusion Award. In 2023, she was awarded a Josiah Macy Foundation President Grant for a project where she is a co-PI, and whose objective is to create inclusive clinical learning environments where all learners can thrive.