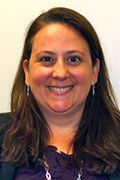 Laura A. Martello-Rooney, PhD
Director of GI Research, Division of Gastroenterology & Hepatology

Education and Training:
Positions held:
Research Assistant Professor, Department of Medicine, Division of Gastroenterology & Hepatology, SUNY Downstate Medical Center (2009 - )
Research Scientist, Feinstein Institute for Medical Research, Manhasset, NY (2005 - 2008)
Postdoctoral Fellowship:
Molecular Oncology, New York University School of Medicine, NY (2002 - 2005)
Graduate School:
PhD Biological Sciences, Albert Einstein College of Medicine, Bronx, NY (2001)
Career / Research Interests:
My previous backgrounds in gastrointestinal diseases and more extensively in molecular oncology have now merged in my role as Director of GI Research. The GI Research laboratory is focused on translational research projects with an emphasis on pancreatic cancer, colon cancer and inflammatory bowel disease. Pancreatic and colon cancer are a primary focus due to the African American population predominant at SUNY Downstate Medical Center/Kings County Hospital Center having a higher incidence of these cancers. One current project involves generating patient-derived xenografts from African American patient's pancreatic tumors in collaboration with Stony Brook University and Cold Spring Harbor Laboratory and will be crucial to understanding the disease at the molecular level. In addition, we have projects investigating a novel drug delivery approach for pancreatic tumors utilizing mouse models of pancreatic cancer, analyzing the cytokine profile of pancreatic cyst fluid and testing the radiosensitivity of pancreatic cancer cells underscoring our commitment to pursuing multiple directions in GI cancer research.
Burkhart C, Fleyshman D, Kohrn R, Commane M, Garrigan J, Kurbatov V, Toshkov I, Ramachandran R, Martello L, Gurova KV. (2014) Curaxin CBL0137 eradicates drug resistant cancer stem cells and potentiates efficacy of gemcitabine in preclinical models of pancreatic cancer. Oncotarget, 5(22): 11038-11053. Osei-Sarfo K, Martello L, Ibrahim S, & Pellicer A. (2011) The human Rgr oncogene is overexpressed in T-cell malignancies and induces transformation by acting as a GEF for Ras and Ral. Oncogene, 30: 3661-3671.
Martello LA & Pellicer A. (2006) Biochemical and biological analyses of the Rgr RalGEF oncogene. Methods in Enzymology, 407: 115-128.
Martello LA, Verdier-Pinard P, Shen H-J, He L, Torres K, Orr GA & Horwitz SB. (2003) Elevated levels of microtubule destabilizing factors in a Taxol-resistant/dependent A549 cell line with an alpha-tubulin mutation. Cancer Research, 63: 1207-1213.
Goncalves A, Braguer D, Kamath K, Martello L, Briand C, Horwitz S, Wilson L & Jordan MA. (2001) Resistance to Taxol in lung cancer cells associated with increased microtubule dynamics. Proceedings of the National Academy of Sciences USA, 98: 11737-11742.
Martello LA, LaMarche MJ, He L, Beauchamp TJ, Smith AB III & Horwitz SB. (2001) The relationship between Taxol and (+)-discodermolide: synthetic analogs and modeling studies. Chemistry & Biology, 8: 843-855.
Martello LA, McDaid HM, Regl D, Yang C-PH, Meng D, Pettus TRR, Kaufman MD, Arimoto H, Danishefsky SJ, Smith AB III & Horwitz SB. (2000) Taxol and discodermolide represent a synergistic drug combination in human carcinoma cell lines. Clinical Cancer Research, 6: 1978-1987.
Hyun CS, Martello LA & Karl PI. (1994) Identification of protein kinase C-alpha, epsilon, and zeta in rabbit ileal enterocytes. Comparative Biochemistry and Physiology, 108C: 171-178.
Hyun CS, Chen CW, Shinowara NL, Palaia T, Fallick FS, Martello LA, Mueenuddin M, Donovan VM & Teichberg S. (1995) Morphological factors influencing transepithelial conductance in a rabbit model of ileitis. Gastroenterology, 109: 13-23.
Homaidan FR, Martello LA, Melson SJ & Burakoff R. (1998) Regulation of electrolyte transport by nitric oxide in the mouse cecum. European Journal of Pharmacology, 350: 93-99.