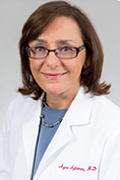 Ayse Aytaman, MD, FACG, AGAF, FAASLD
Clinical Professor of Medicine
Chief, Division of Gastroenterology and Hepatology
VA NY Harbor Health Care System – Brooklyn Campus
(718) 836-6600, Ext. 3719
Ayse Aytaman, MD is a Clinical Professor of Medicine at the State University of New York, Downstate Medical Center in Brooklyn, NY and the Chief of Gastroenterology and Hepatology at VA NY Harbor Health Care System – Brooklyn Campus.
Dr. Aytaman received her M.D. Degree from the University Of Vienna School of Medicine, Vienna Austria and received a full seven-year scholarship from the Austrian Ministry of Education. She then did her residency in Internal medicine and Gastroenterology fellowship at SUNY Downstate Medical Center in Brooklyn. Dr. Aytaman has been in practice for 36 years. She has been the Co-Director VISN 2 South Liver team, Hepatocellular Carcinoma Team and Tumor Board. She has pioneered the nation's First VISN wide Multi-facility, Multi-Disciplinary EES Approved SCAN ECHO Tumor Board. She is the founder and Co-Director National VA Liver Cancer Team since January 2018.
Under her leadership, the GI team at VA New York Harbor – Brooklyn Campus. received the "Federal Employees Team of the Year Award 2017." Recently she was the recipient of the "Special Service Award ACG Board of Governors 2016/2017" and was selected Honoree as "Physician of the Year Award" For Greater New York for American Liver Foundation Gala 2018, the first female to receive this award.
A major focus of her academic contribution at SUNY Downstate College of Medicine is towards education of residents, medical students and Gastroenterology fellows. As the Director of the VA liver cancer team and Site director for the GI fellowship at the VA New York Harbor – Brooklyn Campus., she has developed and implemented our hepatology curriculum that serves as the core curriculum for our fellowship program. Her contribution to the GI fellowship includes serving as a member of the program evaluation committee and the clinical competency committee.
Dr. Aytaman has mentored over 200 Gastroenterology fellows who are in various academic and private practice settings all over the United States. She is recognized nationally in the field of hepatology and serves on several national committees as part of the VA and American Association for the study of liver diseases. Over the last two decades, she has given innumerable Grand rounds in hepatology to both the GI fellows and to the department of medicine and conducted many board reviews for the house staff. She is widely regarded as one of the best educators in the Department of Medicine. She has mentored medical students, residents and GI fellows on research projects that have been presented at national meetings and published in major gastroenterology and hepatology journals. Her mentees have been very successful in their career and currently faculty in leading academic institutions.
She has spoken at many international conferences on hepatitis C management and algorithm for management of hepatocellular carcinoma that she pioneered and standardized throughout the VA system in the United States. She has directed or co-directed several regional and national hepatology conferences over the last 8 years as her CV indicates. She has also organized a mini Sabbatical for HCV Education for Nurse Practitioners, Physician Assistants and Clinical Pharmacy Specialist from 2015 to now.
She is the regional governor of the American College of Gastroenterology serving in multiple committees in ACG and AASLD.
She is one of the founding members and actively involved in all the educational activities and mentorship of the "Empire Liver Foundation" that targets hepatitis C eradication in NY city with patient and provider education and advocacy.
Her major accomplishments include the creation of VA National Liver Cancer Team, a mentorship program in HCV management for all VA hospitals in the US, creation of a tele hepatology outreach program and a mobile VA Health Screening program.
Clinical Focus
General GI, treatment of hepatitis and other disorders of the liver
Media
In Honor Of with Dr. Ayse Aytaman discussing HEP C programs at the VA
Kaplan DE, Serper MA, Mehta R, Fox R, John B, Aytaman A, Baytarian M, Hunt K, Albrecht J, Njei B, Taddei TH; VOCAL Study Group. Effects of Hypercholesterolemia and Statin Exposure on Survival in a Large National Cohort of Patients With Cirrhosis. Gastroenterology. 2019 May; 156(6):1693-1706.
Kaplan DE, Chapko MK, Mehta R, Dai F, Skanderson M, Aytaman A, Baytarian M, D'Addeo K, Fox R, Hunt K, Pocha C, Valderrama A, Taddei TH; VOCAL Study Group. Healthcare Costs Related to Treatment of Hepatocellular Carcinoma Among Veterans With Cirrhosis in the United States. Clin Gastroenterol Hepatol. 2018 Jan; 16(1):106-114.
Serper M, Taddei TH, Mehta R, D'Addeo K, Dai F, Aytaman A, Baytarian M, Fox R, Hunt K, Goldberg DS, Valderrama A, Kaplan DE; VOCAL Study Group. Association of Provider Specialty and Multidisciplinary Care With Hepatocellular Carcinoma Treatment and Mortality. Gastroenterology. 2017 Jun; 152(8):1954-1964.
Goldberg DS, Taddei TH, Serper M, Mehta R, Dieperink E, Aytaman A, Baytarian M, Fox R, Hunt K, Pedrosa M, Pocha C, Valderrama A, Kaplan DE. Identifying barriers to hepatocellular carcinoma surveillance in a national sample of patients with cirrhosis. Hepatology. 2017 Mar; 65(3):864-874.
Aytaman A, Ojike N, Zizi S, Pandi-Perumal SR, Lukolic I, Bhanvadia A, Nwamaghinna F, Kamran H, Akivis A, Bankole O, Salifu MO, McFarlane SI. Hepatitis B Vaccination Rate in Patients with Diabetes: Assessment of Racial and Socioeconomic Disparity. Int J Clin Endocrinol Metab. 2016 Dec; 2(1):024-27.
Kaplan DE, Dai F, Skanderson M, Aytaman A, Baytarian M, D'Addeo K, Fox R, Hunt K, Knott A, Mehta R, Pedrosa M, Pocha C, Valderrama A, Taddei T; VOCAL Study Group. Recalibrating the Child-Turcotte-Pugh Score to Improve Prediction of Transplant-Free Survival in Patients with Cirrhosis. Dig Dis Sci. 2016 Nov; 61(11):3309-3320.
Weiner JP, Wong AT, Schwartz D, Martinez M, Aytaman A, Schreiber D. Endoscopic and non-endoscopic approaches for the management of radiation-induced rectal bleeding. World J Gastroenterol. 2016 Aug 21; 22(31):6972-86.
Cozen ML, Ryan JC, Shen H, Cheung R, Kaplan DE, Pocha C, Brau N, Aytaman A, Schmidt WN, Pedrosa M, Anand BS, Chang KM, Morgan T, Monto A. Improved Survival Among all Interferon-α-Treated Patients in HCV-002, a Veterans Affairs Hepatitis C Cohort of 2211 Patients, Despite Increased Cirrhosis Among Nonresponders. Dig Dis Sci. 2016 Jun; 61(6):1744-56.
Au JT, Levine J, Aytaman A, Weber T, Serafini F. Management of peritoneal metastasis from neuroendocrine tumors. J Surg Oncol. 2013 Nov; 108(6):385-6.
Aytaman A, Kaufman M, Terrault NA. Management of post-transplant hepatitis C infection. Curr Opin Organ Transplant. 2010 Jun; 15(3):301-9.