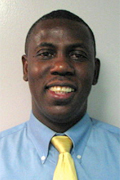 Steven Liverpool, MD
Professor
Department of Family and Community Medicine
Dr. Steven Liverpool was appointed as a Clinical Assistant Professor in the Department of Family Medicine in the Autumn of 1996. This appointment enabled Dr. Liverpool to join the physician staff the Family Health Services. Dr. Liverpool has been a stalwart presence at FHS ever since. He has built a thriving medical practice, caring for a very large panel of extremely devoted patients.
Dr. Liverpool's primary appointment as a member of the faculty of SUNY Downstate Medical Center came in 1995, when he became an internist in the Department of Medicine. Dr. Liverpool had already been at Downstate for several years, as Resident, Chief Resident, and Fellow in Internal Medicine.
Dr. Liverpool's involvement in Health professions dates back to his service as a Physical Therapy Technician from 1976 to 1980 in the United States Air Force. He then served in the United States Army Reserve as a Physical Therapy Specialist from 1980 until 1983. In 1985, Dr. Liverpool earned the Bachelor of Science degree from Columbia University. He earned his M.D. degree from SUNY at Buffalo in 1990.