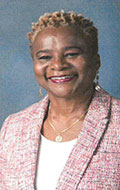 Marcia Edmond-Bucknor, MD
Medical Director at Family Health Services Center and Clinical Assistant Professor
Department of Family and Community Medicine
Marcia Edmond-Bucknor, MD joined the Department as an Attending Physician in September 2009 with a faculty rank of Assistant Professor. Currently, Dr. Marcia Edmond-Bucknor is a primary care provider and the Medical Director of Family Health Services (FHS) - the only community-based primary care site of University Hospital of Brooklyn, located at 840 Lefferts Ave, Brooklyn, NY 11203. FHS serves as a neighborhood center for primary medical care to 11 zip codes including the communities of Flatbush and Crown Heights in Central Brooklyn.
As Faculty Dr. Edmond-Bucknor also helps to train and empower the Family Medicine residents and medical students. Dr. Edmond-Bucknor graduated from the State University of New York, Health Science Center at Brooklyn College of Medicine in 2004. She also holds a Bachelor's degree in Biology and a Master's degree in Cell and Molecular Biology from the City College of New York.
Dr. Edmond-Bucknor is American Academy of Family Physician board-certified and holds the following specialty certifications: Hazelden, Professions in Residence Program at Hazelden New York, National Association of Alcoholism and Drug Abuse Counselors. She is also licensed in Medicine and Surgery from The New York State Education Department, Office of the Professions.
Dr. Edmond-Bucknor is a Christian and a member of the Lenox Road Baptist Church where she is currently Chair of the Church's Health Ministry and dances with the Dance Ministry.
Since 2005, Dr Edmond-Bucknor has been active in various community based organizations and churches, empowering individuals and groups on the prevention and management of hypertension, diabetes, high cholesterol, obesity, behavioral health, adolescent health and other health issues. She has also met with the owners of numerous local Caribbean restaurants to discuss the impact of high sodium foods on hypertension, cardiovascular disease and stroke, and educated them on low sodium alternative ingredients.
In October 2017, Dr. Edmond-Bucknor was invited by Congresswoman Yvette Clarke representing the 9th District of New York, to be a panelist at the Congressional Briefing on Black Women's Health, hosted by the Black Women's Health Imperative at Capitol Hill, Washington, D.C.
Two Column - Two-thirds Layout
Left Content
Right Content

7/29/2014

Recipient of Certificate of Recognition,

Distinguished Preceptor, 2013-2014, Introduction

to Patients in Ambulatory Care (IPAC)
Two Column - Two-thirds Layout
Left Content
Right Content

7/28/2016

Recipient of Certificate of Recognition,

Distinguished Preceptor 2015-2016, Introduction to

Patients in Ambulatory Care (IPAC)
Two Column - Two-thirds Layout
Left Content
Right Content

8/6/2016

Recipient of the Jambassador Award for Community Service

in Medicine, IMC Media Group Corp

Recipient of Certificate of Special Congressional Recognition,

Member of Congress, Yvette Clarke

Recipient of Citation from New York State Assembly, Hon

N. Nick Perry, 58th• District, Brooklyn, NY

Recipient of Proclamation, New York State Senate,

Senator Kevin S. Parker,

21st, Senate District
Two Column - Two-thirds Layout
Left Content
Right Content

3/31/2018

Recipient of Women of Excellence Award 2018, Lions

Sports Club Inc Recipient of Certificate of Special

Congressional Recognition- for outstanding and

invaluable service to the community; Member of

Congress, Yvette Clarke
Two Column - Two-thirds Layout
Left Content
Right Content

5/13/2018

Recipient of Community Service Award - in recognition of

dedication and service, St Stephens and St Martins

Episcopal Church