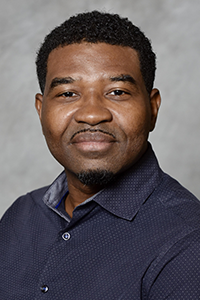 Edward Allen, MD
Clinical Assistant Professor
Department of Family and Community Medicine
Dr. Edward Allen joined the Department of Family Medicine in 2014 as a Clinical Assistant Professor. His responsibilities include care of a panel of patients at SUNY Downstate University Hospital of Brooklyn and at Family Health Services, a satellite primary care facility in Central Brooklyn. He also supervises medical students and residents in these facilities and instructs them in the classroom.
Dr. Allen spent his early years on the island of Jamaica. He moved to the United States after graduating from high school, where he earned distinctions in science. He moved to New York City and continued his studies at the City College of New York. He earned a B.S. degree in Biology in 2001, graduating with honors. While pursuing undergraduate studies, Dr. Allen worked as a tutor, his clients ranging from elementary school students to students at the university level. He continues to tutor from time to time.
Following a short break from his studies, Dr. Allen was accepted to pursue medical education at SUNY Downstate College of Medicine. He completed his studies in 2008 and was welcomed into the Family Medicine Residency Training program at SUNY Downstate. After completing his residency training, Dr. Allen remained at Downstate where he completed 2 years of fellowship training in Faculty Development with a focus on Geriatric Medicine. The next year he worked as a consultant on SUNY Downstate's successful application for recognition as a Patient Centered Medical Home (PCMH). At the conclusion of his consultancy, Dr. Allen joined the clinical faculty in the Department of Family Medicine.