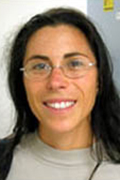 Jessica Stetz, MD
Assistant Professor
Simulation
Medical School:
Mount Sinai School of Medicine
Graduation Date:
1999
Residency Training:
Bellevue / NYU Langone Medical Center
Areas of Professional Interest:
Simulation, pediatrics and geriatrics
Outside Interests:
My children, cooking, gardening and cycling
Vassallo S, Hartstein M, Howard D, Stetz J, "Traumatic Retrobulbar Hemorrhage: Lateral Canthotomy and Cantholysis." Journal of Emergency Medicine, April 2002.

Hoffman RJ, deSouza I, Stetz J, Chu J, Nelson LS, Hoffman RS, "Prolonged QT Segment and Syncope with Loratadine Use." Journal of Toxicology/ Clinical Toxicology, 2001; 39:505.