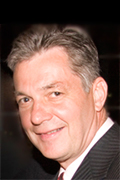 Stephan Rinnert, MD
Vice Chairman, Director of EM Categorical and EM/IM Combined Residency Programs
Faculty Development and Education
Medical School:
Free University Berlin, Germany
Graduation Date:
1984
Residency Training:
Internal Medicine at SUNY Downstate / Kings County Hospital and Emergency Medicine at Lincoln Hospital, Bronx, NY
Areas of Professional Interest:
International Medicine, Medical Education, Faculty Development, Simulation
Outside Interests:
Photography, Travel, Tractor driving
Biography:
Dr. Rinnert is the Vice Chairman for education and faculty development of the Department of Emergency Medicine at SUNY Downstate / Kings County Hospital. Born in Germany and raised in Turkey he completed his medical school in Berlin, Germany, and moved to the US in 1986. Since then he specialized in Internal Medicine and Emergency Medicine. He is presently very active on the medical school level developing a center wide simulation and advanced learning resource facility and nationally involved in the area of postgraduate training. His international credentials include medical work in Germany, Western Africa, Turkey, Iran, and Haiti. Dr. Rinnert is fluent in German, English and Turkish and speaks French and Spanish. His areas of interest include medical education, curriculum development, and international exchange. Dr. Rinnert lives with his wife and two young children in Brooklyn, New York.
Rinnert S, Miller A, Ersel M, Doty C, International Emergency Medicine: The Turkish Experience, Common Sense, Vol. 15, Issue 2, March/April 2008, p 11

Shayne P, Gallahue F, Rinnert S, Reliability of a Checklist Assessment of Live Performance of Learners in the Emergency Department: the Standardized Direct Observation Assessment Tool (SDOT). Acad. Em Med 2006 , 13:727-732

Zehtabchi S, Rinnert S, Manoach S, Lightfine MB, International Emergency Medicine: Our waiting room spans the globe. Am J Emerg Med. 2005 May;23(3):404-6.

Zehtabchi S, Sinert R, Rinnert S, Chang B, Heinis C, Altura RA, Altura BT, Altura BM. Serum ionized magnesium levels and ionized calcium-to-magnesium ratios in adult patients with sickle cell anemia. Am J Hematol. 2004 Nov;77(3):215-22.

Dyne PL, Strauss RW, and Rinnert S. Systems-Based Practice: The Sixth Core Competency. Acad Emerg Med 2002, 9: 1270-1277.

Lucchesi MP, Rinnert S, Barrett D, Tran D, Sinert, R. The Effect of Ethanol Intoxication on Acid Base Status after Trauma. Annals of Emergency Medicine 2000; 36(4) supp. 545.

Rinnert S, Patel MR, Tran D, Barrett D, Lucchesi MP, Baron BJ, Sinert R., Risk Stratification of Occupational Exposures in an Urban Hospital. Annals of Emergency Medicine 2000; 36(4) supp. 566.

Rinnert S, Scalea T, Sinert R . Management of Nontraumatic Subarachnoid Hemorrhage in a Patient with Sickle-Cell Disease: A Case Report. Acad. Emerg. Med. 1996; 3:859-863

Rinnert S, Tartter P. Multivariate Analysis of Recurrence after Anterior Resection for Colorectal Carcinoma. Am J Surg, 1989. 157(6): 573-6