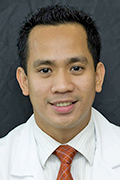 Jerome Keith Salvani, MD
Clinical Assistant Professor
Co-Director, Hospitalist Division
Department of Medicine
Education and Training:
Medical School:
University of the Philippines Manila
Residency:
Internal Medicine, SUNY Downstate Medical Center
Fellowship:
Infectious Disease, SUNY Downstate Medical Center
Career / Research Interests:
Interests include Academic Hospital Medicine and Hospital Administration. Subspecialties include Infectious Disease and Hospice and Palliative Medicine. Current research: Investigator in PRISMS Study: A Phase lllB, double-blind, multicenter study to evaluate the safety and efficacy of Alteplase in patients with mild stroke.
Landman D, Salvani JK, Bratu S, Quale J. Evaluation of techniques for detection of Carbapenem-resistant Klebsiella pneumoniae in stool surveillance cultures. J Clin Microbiol. 2005 Nov; 43(11):5639-41.
Bratu S, Landman D, George A, Salvani J, Quale J. Correlation of the expression of acrB and the regulatory genes marA, soxS and ramA with antimicrobial resistance in clinical isolates of Klebsiella pneumoniae endemic to New York City. J Antimicrobial Chemotherapy. 2009 May 21.
Teran C, Antezana A, Salvani J, Abaitey D. Group B Streptococcus endocarditis associated with multiple pulmonary septic emboli. Clinics and Practice, An International Journal of Case Reports. 2011 Mar; 1:e7.