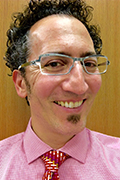 Jason Gonsky, PhD
Assistant Professor
Director of Hematology and Oncology
Kings County Hospital Center
(718) 245-2770
(718) 245-2844
Education and Training:
Positions held:
Principal Investigator on the NCI-funded Minority-Based Community Clinical Oncology Program at Kings County Hospital from 2009-2015
Fellowship:
Hematology and Oncology, New York University School of Medicine, NY, NY, 2005-8
Residency:
Internal Medicine, McGaw Medical Center of Northwestern University, Chicago, IL 2001-4
Medical School:
Columbia University College of Physicians and Surgeons, NY, NY
Graduate School:
Integrated Program in Cellular, Molecular, and Biophysical Studies, Columbia University, NY, NY, MA, MPhil, PhD
Career / Research Interests:
I have dedicated my career to understanding the mechanisms of cancer and to bringing the best possible care to people who are afflicted. I have trained as a physician and as a basic scientist, and this has influenced the way I see disease and the way I treat patients and supervise and teach our medical students, residents, and hematology-oncology fellows. Additionally, my experience treating patients informs the perspective I bring to advancing our understanding of the biology of the cancers I treat. I strive to bring the most modern therapy and understanding to the management of patients through clinical trials and basic science research. I am involved in projects exploring improving our understanding and management of several cancers that disproportionately afflict people of Afro-Caribbean descent including multiple myeloma and adult T-cell leukemia/lymphoma. Through partnerships with several institutions across New York I am also exploring the role of genomics in the management of cancers, and examining the ways we discuss goals of care with patients with advanced cancers.
Adrienne A. Phillips, Paul Fields, Juan Carlos Ramos, Brady Beltran, Juliana Pereira, Carlos Brites, Michael Kurman, Joyce George, Karen Dwyer; Kevin Conlon, Graham P. Taylor, Jason Gonsky, Steven M. Horwitz (2016). A prospective, multicenter, randomized study of anti-CCR4 monoclonal antibody mogamulizumab (moga) vs investigator's choice (IC) in the treatment of patients (pts) with relapsed/refractory (R/R) Adult T-cell Leukemia-Lymphoma (ATL). Submitted to Annual Meeting of American Society of Clinical Oncology
Cardinale B. Smith, Natalis Egorova, Jason Parker Gonsky, Benjamin Phillip Levy, Sofya Pintova, Rebeca Franco, Nina A. Bickell (2015). New York State Hospitals Serving the Poor: Does the Proportion of Medicaid Patients Affect Lung Cancer Surgical Short-Term Outcomes? J Clin Oncol 33 (suppl; abstr e 17660)
J Van Cleave, N Seetheramu, J Gonsky, K Alexis, A Divittis, M Lawson, B Caceres, V Raveis, B Schmidt (2015). Characterizing Pain at Diagnosis of Head and Neck Cancer in an Underserved Population. J Pain 16 (4) S1
Solly Elmann, Jason P. Gonsky, Oktay Shuminov, Valerie Elmalem Human T-Lymphotropic Virus type I and Adult T-Cell Lymphoma: Ocular and Neuro-Opthalmic Manifestations. (2014) American Academy of Opthalmology Annual Meeting presentation.
Kesselman, A., Dubey, A., Gonsky, J., Hammill, P. Lymphoma, Leukemia, and Look-a-like Lesions: Abdominal Imaging Manifestations of Hematologic Malignancies and Their Mimickers (2013) Oral Poster Presentation Annual Meeting of the Society of Computed Tomography and Magnetic Resonance.
Jametta Magwood MPH1,2, Alanna S. Murday BS1, Nancy Y. Zhu MD3, Peter Georgantopoulos MPH1,2, Zaina P. Qureshi PhD MPH RPh1,2,J ennie A. Buchanan MD4,5, Joan Baumbach MD MPH MS6, Irene A. Dy MD7,8, LeAnn Norris Pharm D1,9, Richard C Dart MD4, Erin Gilbert MD PhD10, Priya Mahindra MD10, Heather A. Kehr PharmD11, Anthony M. Rossi MD12, Sarveshwari Singh13, Brian R. Edlin MD10, Jason Gonsky MD PhD,10 Paul Ray DO1, Jill Michels Pharm D1, William Richardson MD1, P. Brandon Bookstaver Pharm D1, Vishvas Garg PhD14, Xian Shen PhD14, Dennis W. Raisch PhD14, June M. McKoy, MD JD MPH MBA15 Gowtham A. Rao 2,9,16 , Oliver Sartor MD17, Richard J. Ablin PhD, DSc18, Charles L. Bennett MD PhD MPP1,2,4,19, Peter H. Wiernik MD7,8 Levamisole contamination of cocaine resulting in neutropenia and thrombovasculopathy: A report from the Southern Network on Adverse Reactions (SONAR). (2013) Community Oncology (2013) 10: 364-7.
Adam Goldrich, Anuja Kriplani, Andriane Melanthiou, Daniel Fein, Elizabeth Helzner, Arvind Babu, Jason Gonsky, Olcay Batuman. (2013) Cytogenetic Profile of Multiple Myeloma in the Inner City: Clinical Presentation and Survival. Blood. 122 (21) Abstract.
Adam Goldrich, Andriane Melanthiou, Anuja Kriplani, Elizabeth Helzner, Arvind Babu, Daniel Fein, Juhee Sidhu, Jason Parker Gonsky, Olcay Batuman. (2013) Profile of Multiple Myeloma in the Inner City: Disease Presentation and Clinical Course. Journal of Clinical Oncology 31 (15) suppl Abstract 8594.
Matthew A. Lunning, Jason Gonsky, Jia Ruan, Adrienne A. Phillips, Melissa Pulitzer, Alison Moskowitz, Christiane Querfeld, Patricia L. Myskowski, Ariela Noy, and Steven M. Horwitz. (2012) Pralatrexate in Relapsed/Refractory HTLV-1 Associated Adult-T-Cell Lymphoma/Leukemia: A New York City Multi-Institutional Experience. Blood 120: 21 Abstract 2735
Marc J Braunstein, Sadeaqua Scott, Eric LP Smith, Danielle F Joseph, Jason Gonsky, Ruben Carrasco, Kumar Sukhdeo, Alexei Protopopov, Kenneth C. Anderson, MD, Olcay Batuman. (2010) Genomic Analysis of Endothelial Progenitor Cells In Multiple Myeloma Reveals Aberrant Gene Pathways Common to Tumor Cells. Blood 116: 21 Abstract 3016.
David S. Siegel, MD, PhD, Laura McBride, RN, BSN, OCN, Elizabeth Bilotti, RN, MSN, APN-C, Nikoletta Lendvai, MD, PhD, Jason Gonsky, MD, PhD, Thomas Berges, RN, MSN, ANP-BC, Danielle Schillen, RN, BSN, OCN, MPH, Ann McNeill, RN, MSN, APN-C, Linda Schmidt, RN, BSN, Karen H. van Hoeven, MD. 2009. Inaccuracies in 24-Hour Urine Testing for Monoclonal Gammopathies. Lab Medicine 40: 341-4. http://labmed.ascpjournals.org/content/40/6/341.full.pdf
Jason P. Gonsky, MD,PhD, Nikoletta Lendvai, MD,PhD, Michele L. Donato, MD, Scott D. Rowley, MD, Andrew L. Pecora, MD, Tatyana Feldman, MD, Andre Goy, MD, Stuart Goldberg, MD, and David S. Siegel, MD,PhD. (2007) DCEP (Dexamethasone, Cyclophosphamide, Etoposide, Cisplatin) Followed by High-Dose G-CSF is a Highly Efficient and Safe Regimen for Stem Cell Mobilization for Multiple Myeloma. Blood 118: 11 Abstract #3284.
Simon M Badin, MD, Jason P. Gonsky, MD, PhD, Nikoletta Lendvai, MD, PhD, Sivaraman K Gounder, MD, Scott Rowley, MD, Michelle Donato, MD, Stuart Goldberg, MD, Andrew Pecora, MD, Laura McBride, BSN, Linda Schmidt, BSN, Kristen A Donadio, BSN, Ann McNeil, BSN, MSN and David S Siegel, MD, PhD. (2008). Efficient Stem Cell Mobilization in Lenalidomide Treated Multiple Myeloma Patients Can be Achieved by Mobilization with DCEP (Dexamethasone, Cyclophosphamide, Etoposide, Cisplatinum) Followed by High-Dose G-CSF. Poster Presentation at the 2008 Bone Marrow Transplant Annual Meeting.
Gonsky, J., Bacharach, E., and Goff, S.P. 2001. Identification of Residues of the Moloney Murine Leukemia Virus Nucleocapsid Critical for Viral DNA Synthesis In Vivo. J Virol 75: 2616-26. PMCID: PMC115885.
Bacharach, E., Gonsky, J., Lim, D., and Goff, S.P. 2000. Deletion of a Short, Untranslated Region Adjacent to the Polypurine Tract in Moloney Murine Leukemia Virus Leads to Formation of Aberrant 5' Plus-Strand DNA Ends In Vivo. J Virol 74: 4755-64. PMCID: PMC111998.
Bacharach, E., Gonsky, J., Alin, K., Orlova, M., and Goff, S.P. 2000. A Carboxyterminal Fragment of Nucleolin Interacts with the Nucleocapsid Domain of Retroviral Gag Proteins and Inhibits Virion Assembly. J Virol 74: 11027-39. PMCID: PMC113183