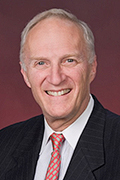 Jeffrey Borer, MD, FACC, FAHA
Professor of Medicine, Cell Biology, Radiology and Surgery;
Director, The Howard Gilman Institute for Heart Valve Disease and the Schiavone Institute for Cardiovascular Translational Research;
Formerly Chairman, Department of Medicine and Chief, Division of Cardiovascular Medicine
Education and Training:
Position held:

Professor of Medicine (beginning 1982). Radiology (beginning 1990) and Cardiothoracic Surgery (beginning 1996) and Gladys and Roland Harriman Professor of Medicine (1983-2008), Weill Cornell Medical College, Cornell University, New York, NY; Chief, Division of Cardiovascular Pathophysiology, Weill Cornell Medical College 1996-2008; currently, Adjunct Professor of Cardiovascular Medicine in Cardiothoracic Surgery, Weill Cornell Medical College, Cornell University, New York, NY 2008-present.

Fellowship:

Cardiology Branch. National Heart, Lung and Blood Institute, National Institutes of Health, Bethesda, MD, 1971-1974; Chief Resident 1973-1974; Glorney-Raisbeck Fellow in the Medical Sciences and Senior Fullbright-Hays Scholar, Guy's Hospital, University of London, London, UK 1974-75.

Residency:

Internal Medicine, Massachusetts General Hospital, Boston, MA, 1969-1971

Medical School:

Cornell University Medical College (now Weill-Cornell), New York, NY, 1965-1969
Career / Research Interests:
Jeffrey S. Borer, MD, is Professor of Medicine, Cell Biology, Radiology and Surgery at the State University of New York Downstate Medical Center. During his year at Guy's Hospital (London) as Senior Fullbright Hays Scholar and Glorney-Raisbeck Fellow in the Medical Sciences, he completed the first clinical demonstration of nitroglycerin's utility in acute myocardial infarction following his several years of preclinical studies at NIH. Upon returning to the NIH, he developed stress radionuclide cineangiography, an achievement which transformed the practice of cardiology by enabling the first non-invasive assessment of cardiac function with exercise; this development enabled unmasking previously inapparent cardiac disabilities and quantifying their severity. After returning to Cornell from NIH, and now at Downstate, he has performed clinical service, teaching and research, the latter currently primarily focused on developing prognosticators for regurgitant valve diseases and assessing the effects of heart rate modification on clinical outcomes, with trials in coronary artery disease and heart failure.He has been an Advisor to the USFDA for 38 years, chaired the CardioRenal Drugs Advisory Committee for 3 terms and the Circulatory Devices Advisory Panel for one term, was a life sciences Advisor to NASA for 24 years, has served as officer/board member of several national professional societies (most recently founding President, Heart Valve Society of America 2004-2014, now expanded to the Heart Valve Society [interntational], of which he serves on the Board of Trustees), has published almost 500 full-length scientific papers and 7 books, has participated in various roles in numerous clinical trials of therapies, is editor-in-chief of the journal, Cardiology, and has received several awards and other recognitions for his work including, most recently, the Lifetime Achievement Award of the Heart Valve Society of America and Society of Heart Valve Disease of Europe (2014), and his selection as one of three Legends of Cardiology at the 10th Annual Complex Catheter-based Cardiovascular Therapeutics conference (2014). His research has been supported by NIH, AHA and, for many years, by several large private foundations.
Borer JS, et al. Reduction in myocardial ischemia with nitroglycerin or nitroglycerin plus phenylephrine administered during acute myocardial infarction in man. New England Journal of Medicine 1975;293:1008-1012.
Borer JS, et al. Real-time radionuclide cineangiography in the noninvasive evaluation of global and regional left ventricular function at rest and during exercise in patients with coronary artery disease. New England Journal of Medicine 1977;296:839-844.
Hochreiter C,…Borer JS. Mitral regurgitation: relationship of non-invasive descriptors of right and left ventricular performance to clinical and hemodynamic findings and to prognosis in medically and surgically treated patients. Circulation 1986;73:900-912.
Borer JS, et al. Natural history of left ventricular performance at rest and during exercise after aortic valve replacement for aortic regurgitation. Circulation 1991;84(Suppl III):133-139.
Borer JS, et al, Prediction of indications for valve replacement among asymptomatic or minimally symptomatic patients with chronic aortic regurgitation and normal left ventricular performance. Circulation 1998; 97:525-534.
Supino PG, Borer, J.S., et al. Prognostication in 3-vessel coronary artery disease based on left ventricular ejection fraction during exercise: influence of coronary artery bypass grafting. Circulation, 1999;100:924-932.
Borer JS, et al. Myocardial fibrosis in chronic aortic regurgitation: molecular and cellular response to volume overload. Circulation 2002;105:1837-1842.
Borer JS, et al. Anti-anginal and anti-ischemic effects of ivabradine, an If inhibitor, in stable angina: a randomized, double-blinded, multicentered, placebo-controlled trial. Circulation 2003;107:817-823.
Borer JS, et al. Reduction in hospitalisation for worsening of heart failure with ivabradine in patients with chronic systolic heart failure in the SHIFT trial. European Heart Journal 2012; 33:2813-2820
Borer JS, et al. Drug therapy for heart valve diseases. Circulation 2015; 132:1038-1045.