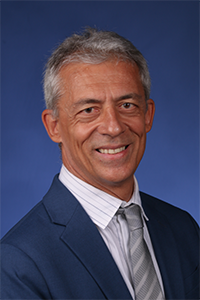 Riccardo Bianchi, PhD
Associate Dean for Foundations of Medicine
Associate Professor Physiology and Pharmacology
Research Interests: Neuroscience - Basic mechanisms of epilepsy
Committee Chair: Unit Directors and Foundations Leadership Committee of Dean's Council of Education
The Associate Dean for Foundations of Medicine supervises the implementation of the curriculum of the first two years of medical school (pre-clerkship phase). He coordinates the work of faculty and staff for preparation and delivery of course instructions. He ensures that course management teams carry out the design, review and revision of curricular materials, learning modalities, students assessments, and teaching faculty development under the oversight of the Dean's Council of Education and its Subcommittees. The Associate Dean for Foundations also communicates with students at regular meetings with student representative committees and via frequent interactions with all students on campus. He makes sure that students receive timely and accurate mid-course feedback and end-of-course assessment results. He is responsible for the review of students' requests for grade appeal and he provides support to students who need to remediate identified deficiencies.
For more information click here.
Office: Basic Science Building (BSB) Room 1-86
Office Hours by appointment: Please email riccardo.bianchi@downstate.edu
Pronouns: He/Him/His.