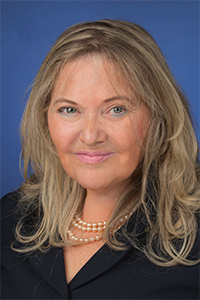 Ellen Berkowitz, MD
Associate Dean for Medical Education, Clinical Advisory Dean
Clinical Assistant Professor, Psychiatry
Research Interests: Undergraduate and Graduate Education and Mentorship / Psychotherapy
Committee Chair: UME Grade Appeals Committee, IPE Initiative, in person CFA's (pre pandemic)
She serves in the College of Medicine (UME) as the Associate Dean for Medical Education. Additionally, she serves as an Early Career Advisor for junior medical students and a Clinical Advisory Dean for students in their clinical years of training. Dr Berkowitz is Chair of the Grade Appeals Committee for the UME clinical years. She also is a member of the COM Admissions Committee, She assists with acute mental health needs and referrals and has a passion for community health and assisting students with planning for residency and beyond.
Dr Berkowitz has been a Foundations 1 Facilitator and co-chaired the IPE initiative with SOHP Department Chairs in Physical Therapy and Occupational Therapy; Additionally she has worked with Nursing on a bedside initiative with preclinical medical students. Dr Berkowitz has spent most of her post residency years in Graduate Medical Education and Residency Training. She remains the Vice Chair of the Departmental Grand Rounds Committee.
Active in various professional organizations including the AMA, APA, AADPRT, AACP, AAP, GAP and others, she currently is Chair of the International Graduate Fellowship Committee and remains active on panels, committees, caucuses and specialty task forces. Dr Berkowitz has organized campus wide specialty forums in Pharmacology and topics in Behavioral Health. She has participated in national and regional scholastic endeavors including numerous workshops, presentations and other scholarly activities.
Office Hours by appointment: Please email ellen.berkowitz@downstate.edu