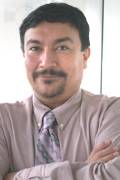 Samuel Márquez, PhD
Associate Professor
Department of Cell Biology
Director of Anatomical Donor Program
(718) 270-7455
(718) 270-2292
Basic Science Research:
Dr. Márquez is a functional craniofacial comparative anatomist whose research interests are in the evolution of the nose and paranasal sinuses and its clinical relevance particularly in the area of sinusitis. He is grounded in traditional gross anatomic dissection, morphometrics of dry skulls, and CT & MR imaging to understand human diversity of living populations. Dr. Márquez research has taken him to museums in Central and South America, Europe and the U.S. to examine and measure diversity across numerous skull specimens housed in their osteological collections. Research goals are centered on questions concerning human origins that are driven by the theme of primate and human evolution with direct relevance to clinical consequences. He has scanned a large number of crania housed in the Division of Anthropology and Mammalogy at the American Museum of Natural History including Egyptian mummies dating to the predynastic era circa 3,600 B.C.E. as well as a Homo erectus calvaria from Indonesia catalogued as Sambungmachan 3 calvaria (SM-3). Dr. Márquez and the team he assembled in 2001 published in The Anatomical Record journal three papers on this curious fossil specimen. Findings were covered in both the international and national press that included The New York Times and NewsDay from New York and from El Tiempo and El Colombiano from the cities of Bogota and Cali in Colombia, South America.
National Geographic Channel - World's Oldest Child (10:26 Excerpt)
In addition, Discovery News also reported on this anthropological investigation (3:07).
Findings from these papers helped to place the SM- 3 calvaria in the Homo erectus spectrum, exactly where was its place in human evolution was answered by Susan Antón of New York University, a Homo erectus specialist, who asked Sam Márquez to collaborate with her to present a holistic appraisal of Asian Homo erectus cranial variation that culminated in a paper published in the Journal of Human Evolution.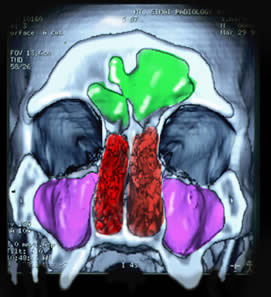 The Márquez collection of MR/CT scanned primate material includes the great apes, lesser apes, and both Old and New World monkeys. His terrestrial mammalian sample includes 12 genera categorized into carnivore, ominivore, frugivore and folivore specimens.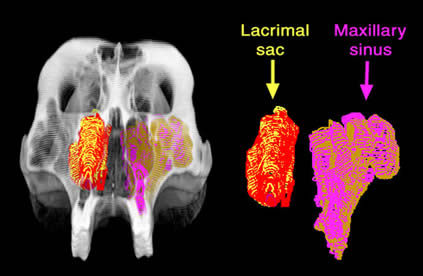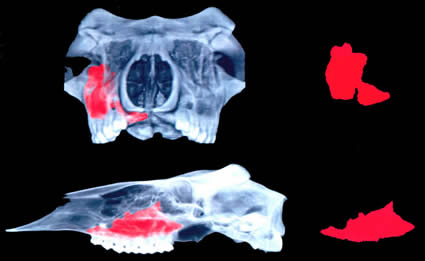 This collection has permitted him to develop an unprecedented understanding of intracranial structures of these various mammalian species that are difficult to see otherwise. His work led to a November 2008 issue as a guest editor of a special issue of the Anatomical Record journal entitled: "The Paranasal Sinuses: The Last Frontier in Craniofacial Biology." Dr. Marquez assembled a Who's Who of internationally recognized sinus workers that encompasses roughly 65 millions of the Tertiary beginning with the famed Tyrannosaurus rex fossil and its remarkable pneumatized skull, touching on our extinct human ancestors of Neanderthals and their sinus complex, and ending with the health and maintenance of sinus biology in humans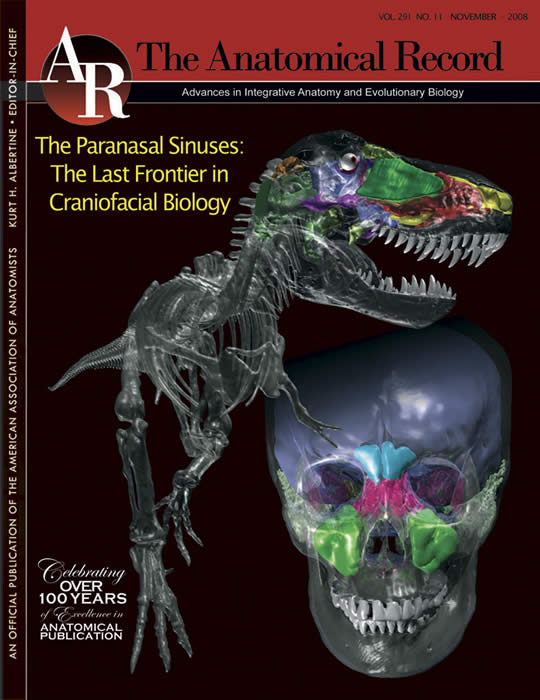 Given that sinusitis initiates a substantial impact on the health and economy in the US afflicting more than 57 million people Dr. Márquez career goals are to collaborate towards development of proper diagnostic protocols, therapeutic treatments and preventive measure strategies that would provide an invaluable resource to clinicians world-wide. Current clinical collaborators are Steven D. Schaefer MD, Chair and Chief of Sinus Surgery of Otolaryngology from the Eye, Ear Infirmary and William Lawson MD, Vice-Chair and Eugen Grasbcheid Professor of Sinus Research of Otolaryngology from the Mount Sinai School of Medicine (both hospital and medical institutions are based in New York City). NSF and NIH have funded Dr. Márquez innovative research, which complement his basic science and clinical objectives.
Dr. Márquez is Co-Discipline Director of Gross Anatomy of the College of Medicine. He is the Director of Gross Anatomy in the School of Health Professions and Director of the Anatomical Gift program here at SUNY Downstate Medical Center.
Dr. Márquez has inspired and sponsored over 43 students from the College of Medicine and the Physician Assistant and Physical Therapy Program to undertake research projects that have culminated in 41 publications during their first year, and has helped find funding for them to present their work to the American Association of Anatomists meetings held in Washington, DC, San Diego, and San Francisco.
He continues to be a strong advocate for education outreach strategies aimed at increasing awareness for health science careers at the high school level. In 2007 he received the Special Partner in Medical Education Award from the Mount Sinai School of Medicine's Center for Excellence in Youth Education. The award presentation cited his dedication to medical education and his interest in encouraging high school and college students to pursue careers in the health care field. Further collaborations with Dr. Lloyd Sherman,EdD of Mount Sinai School of Medicine pursued implementation of the innovative approach of Dyad Pedagogy in teaching anatomy to first-year PA and PT students here at Downstate. Part of the curriculum involves Case Based Learning, where students actively engage in research and present patient cases and offer sound anatomical diagnostic explanations for them. Marquez was also the recipient of the "Center for Cell Biology and Functional Morphology's Award for Excellence in Medical Education" for his singular efforts in fostering excellence in anatomical education across academic levels from pre-college to post graduate students. Aside from the medical education curricula duties he performs, Dr. Márquez has offered medical and health profession students the chance to work side by side with him on his research endeavors.
Broad research and other interests encompass: 1) human evolution and variation, 2) mammalian evolution, 3) primate systematicsand 4) broadening peoples understanding of biological anthropology especially within such topics as Race, Science, and Human Origins. His committment to wide-ranging challenges such as these are what allows for a fresh approach that provides inspiration not just for Marquez but the students and scientists who work with him.
Laitman JT, Reidenberg JS, Márquez S, and Gannon PJ (1996) What the nose knows: New Understandings of Neanderthal Upper Respiratory tract specializations Proc. Natl. Acad. Sci. USA 93:10543-10545
Gannon PJ, Doyle WJ, Ganjian E, Gnoy AR, Márquez S, Gabrielle HS, and Lawson W. (1997) Maxillary Sinus Mucosal Bloodflow During Nasal Versus Tracheal Respiration. Arch. Otolaryngol. Head Neck Surg. Vol. 123: 1326-1340.
Gannon PJ, Constantino P, Lueg EA, Chaplin MB, Brandwein MS, Passalaqua J, Fliegelman LJ, Laitman JT, Márquez S, and Urken M. (1999) Use of the Peritracheal Fold in the Dog Tracheal Transplantation Model. Arch. Otolaryngol. Head Neck Surg. Vol. 125: 959-963.
Márquez S, Mowbray K, Sawyer GJ, Jacob T, and Silvers A (2001) A new fossil hominin calvaria from Indonesia – Sambungmacan 3. Anat. Rec. 262: 344-368.
Broadfield D, Holloway RL, Mowbray K, Silvers A, and Márquez S (2001) The endocast of Sambungmacan 3, a new Homo erectus from Java. Anat. Rec. 262: 369-379.
Delson E, Harvati K, Reddy D, Marcus LF, Mowbray K, Sawyer GJ, Jacob T, and Márquez S (2001) The Sambungmacan 3 Homo erectus calvaria: a comparative morphometric and morphological analysis. Anat. Rec. 262: 380-397.
Mowbray K, Márquez S, and Delson E (2002) The Mandibular Fossa of Sm 3: A reply to Durband. Anat. Rec. 266: 142-145.
Antón SC, Márquez S, and Mowbray K (2002) Sambungmacan 3 and Cranial Variation in Asian Homo erectus. J. Human Evol. 43:555-562.
Márquez S (2008) The Paranasal Sinuses: The Last Frontier in Craniofacial Biology. Guest Editor of Anat. Rec. 291:1350-1361.
Márquez S and Laitman JT (2008) Climatic effects of the nasal complex: A CT imaging, comparative anatomical and morphometric investigation of Macaca mulatta and Macaca fascicularis. Anat. Rec. 291:1420-1445.
Márquez S, Tessema B, Clement P, and Schaefer SD (2008) Development of the ethmoid sinus and migration of extramural cells: The anatomical basis for this paranasal sinus. Anat. Rec. 291:1535-1553.
Encyclopedia
Márquez S and Broadfield DC (2001) Colombia In Melvin Ember and Carol R. Ember (eds.) Countries and Their Cultures. Volume 1:484-498. NewYork: Macmillan Reference USA.
Chapters
Márquez S, Lawson W, Schaefer S, and Laitman JT (2002) Cell Biology of the Nasal Accessory Sinuses In PA Wackym and DH Rice (eds.) Minimally Invasive Surgery of the Head, Neck, and Cranial Base. Philadelphia: Lippincott Williams & Wilkins, pp.153-193.
Book Reviews
Márquez S (2002) The Paranasal Sinuses of Higher Primates: Development, Function and Evolution. Thomas Koppe, Hiroshi Nagai and Kurt W. Alt (eds.). Chicago: Quintessence Publishing Co., Inc. 1999. Review appears in Am. J. Phys. Anthropol. 117:276-277.
Edited Works
Márquez S (2008) The Paranasal Sinuses: The Last Frontier in Craniofacial Biology. (Guest Editor) The Anatomical Record. 291:1343-1574.
Other Publications
Anatomical Consultant in Book Publication: Sawyer GJ and Deak V (2007) The Last Human: A guide to twenty-two species of extinct humans. New York: Yale University Press - Peter N. Nevraumont Publication.
Medical Education Abstracts
Hagge-Greenberg A, Gannon PJ, Levine M, Kheck N, and Márquez S (2004) Table-side digital augmentation of gross anatomy education. American Association of Anatomists, Growth and Development Symposium, Experimental Biology Journal, p. 193.
Sherman LR and Márquez S (2006) Dyad pedagogy: A new way of learning anatomy. American Association of Anatomists, Comparative Cell Biology Symposium, The FASEB Journal, A419.
Farber S, Pensak M, Katz J, Mitchell R, Morton-Rias D, and Márquez S (2006) The Cell Biology of the Free Throw: "Points" for distinction. American Association of Anatomists, Comparative Cell Biology Symposium, The FASEB Journal, A874.
Sherman LR and Márquez S (2007) Dyad Pedagogy in Diagnostic Medical Imaging. American Association of Anatomists, Technological and Teaching Innovations in Anatomical Sciences, The FASEB Journal, A143.
Márquez S and Sherman LR (2008) Dyad Pedagogy: Broadening the learning agenda in anatomy with an eye toward practice. American Association of Anatomists, Cell Biology Education, The FASEB Journal, 244.
Chaudhri A, Sherman LR, and Márquez S (2009) Dyad Pedagogy: A New Education Paradigm for Allied Health Programs. American Association of Anatomists, Cell Biology Education, The FASEB Journal,
Svigals Z and Márquez S (2009) Understanding Cell Biology Through the Art of Sculpting. American Association of Anatomists, Cell Biology Education, The FASEB Journal
Basic Science Abstracts
Obourn C, Qureshi N, and Márquez S (2009) Scapular Anastomoses: The Nature of Vascular Blood Flow Around the Scapula. American Association of Anatomists, The FASEB Journal,
Daniel Charubhumi and Samuel Márquez (2009) The Acetabular-Femoral Angle of Inclination: Are there Racial Differences? American Association of Anatomists, The FASEB Journal,
Frumberg D, Beckman M, and Márquez S (2009) Tracking the Anatomical Contents of the Quadrangular Space: Clinical Implications for Quadrilateral Space Syndrome. American Association of Anatomists, The FASEB Journal,
Grisotti G, Gannon PJ and Márquez S (2009) Clavicular Length Asymmetries in Primates Indicative of Handedness in Daily Activity. American Association of Anatomists, The FASEB Journal,
Schachar JS, Charubhumi D, and Márquez S (2009) Femoral Neck Anteversion: An Orthopaedic Evaluation Between Different Regional Populations, American Association of Anatomists, The FASEB Journal,
Beckman M, Frumberg D, and Márquez S (2009) The Bilateral Nature and Origin of the Medial Circumflex Femoral Artery. American Association of Anatomists, The FASEB Journal,
Gregg M, Palmar D, Delman BN and Márquez S (2009) CT and comparative study of the nasolacrimal angle as a surrogate measure of prognathism in primate and non-primate species. American Association of Anatomists, The FASEB Journal,
Qureshi N, Charubhumi D and Márquez S (2009) Tracking Nasal Diversity in Multi-Regional Populations. American Association of Anatomists, The FASEB Journal,
Maciasz R, Delman BN, Hong S, Lee R, Caceres N, Sawyer GJ and Márquez S (2009) A Forensic Investigation of Human Cranial Remains Recovered From New York City via CT Imaging and Morphometric Analysis. American Association of Anatomists, The FASEB Journal,
Lee R, Maciasz R, Hong S, Caceres N, and Márquez S (2009) Osteological Analysis of Non-human Remains: Understanding the Growth and Developmental Patterns of Post-Crania. American Association of Anatomists, The FASEB Journal,
Hong S, Delman BN, Maciasz R, Lee R, Caceres N, Sawyer GJ and Márquez S (2009) The Challenge of Identifying Commingle Skeletal Remains via CT Imaging and Morphometric Analysis. American Association of Anatomists, The FASEB Journal,