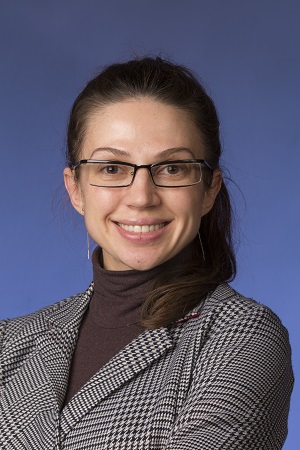 Viktoriya Donovan, MD
Program Administrator & Clinical Instructor
The Brooklyn Initiative to Develop Geriatrics Education (BRIDGE)
Viktoriya Donovan received her M.D. at the Ivano-Frankivsk National Medical University, Ukraine. Dr. Donovan is ECFMG Certified and currently applying to US Psychiatry Residency Programs.
Dr. Donovan is coordinating a multifaceted interprofessional geriatrics education program that encompasses four colleges at SUNY Downstate, two external healthcare systems, and one large community partner. She is serving in this role to champion the cause of geriatric healthcare education throughout Brooklyn, NY.
Before becoming a Grant Administrator on the 3.75 million-dollar Health Resources & Services grant – the Geriatric Workforce Enhancement Program (GWEP), Dr. Donovan worked in support of NY State Department of Health-funded Center of Excellence for Alzheimer's Disease as Patient Care Assistant and Research Support.
Dr. Donovan was also appointed as a Clinical Instructor at Psychiatry Department of SUNY Downstate Health Sciences University.
Viktoriya Donovan has completed a clinical Externship at Jamaica Hospital in Queens, NY.
She also has participated in an additional research experience with the New York State Psychiatry Institute at Columbia University and is actively working on multiple research projects. Dr, Donovan is a co-author on recent Psychiatry Publications and Research papers.
Viktoriya Donovan is dedicated to the field of Psychiatry in both her volunteer and professional endeavors.
Dr. Donovan is fluent in three languages (English, Russian, and Ukrainian).
Education and Training
MD – Ivano-Frankivsk National Medical University, Ukraine (2006-2012)
Certifications and Licensure
ECFMG Certified (Step 1, Step 2 CK/CS, Step 3)
ECG Technician, Certified
Patient Care Technician, Certified
Phlebotomy Technician, Certified
Health Coach, Certified
Clincal Instructor - Volunteer Appointment at Psychiatry Department of SDHSU
Cohen. C., I., Vengassery, A., Reinhardt, M. M., Donovan V., Sheikh S.,Maududi S., Kaishibayev S. The utility of self-rated health in older adults with schizophrenia. International Psychogeriatrics, 1-6. 2018.
Aninditha Vengassery, MD; Sarah Sheikh, MD; Syed Maududi, MD; Michael Reinhardt, MD; Viktoriya Donovan, MD; Sayan Kaishibayev, MD; Joseph Voigt, MD; Carl Cohen, MD.
Transitioning Patients with Major Neurocognitive Disorders from Antipsychotic Medications to Citalopram - A Pharmacogenetically-informed Case Series. Abstract. American Association for Geriatric Psychiatry. 2018.
Ryan Norris, BA; Damilola Adesanya, BS; Viktoriya Donovan, MD; Sayan Kaishibayev, MD; Michael Reinhardt MD.
An Urban Instance of Project ECHO for Dementia Education - Improving Provider Knowledge in Face of the Silver Tsunami.
Poster. Weill Cornell Medical College. 2019.
Grants, Research, and Contract Awards
Grants:

HRSA 1 U1QHP33077­01­00 Cohen (PD)

Geriatric Workforce Enhancement Program

$750,000/year x 5 years

A five-year award to enhance interprofessional geriatrics education and healthcare in the Brooklyn, NY. This program targets healthcare trainees across the professions and Brooklyn's primary care providers.

Role: Grant Administrator

NYS DOH01-COEAD-2015 Cohen (PD);

Center of Excellence for Alzheimer's Disease at SUNY Downstate Medical Center.

A five-year effort to expand and improve the clinical services, care quality, and care outcomes for patients / caregivers with Alzheimer's Disease and Related Dementias across the New York City region.

Role: Clinical Instructor / Research Coordinator

HRSA 1 T1MHP390420100 Cohen (PD)

Geriatric Workforce Enhancement Program

COVID CARES Act

$90,625/year x 1 year

Award's purpose and needs:
Prevent - promote the use of telehealth technologies to reduce risk of COVID-19;
Prepare - enhance readiness to respond to COVID-19 through telehealth technologies:
Respond - provide access to telehealth technologies to limit spread of COVID-19.

Role: Grant Administrator

07/2019-06/2024

1/2016 – 12/2020

5/2020 - 4/2021