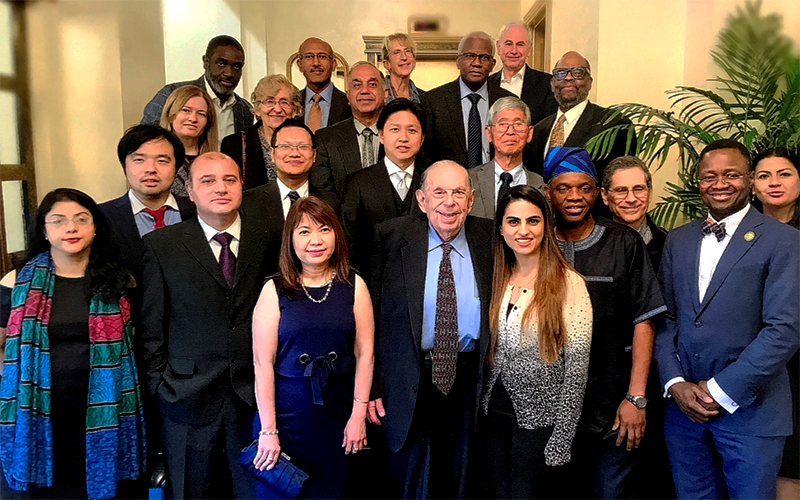 You will be covering three different hospitals in the course of the two years, all of which will give a different spin to your nephrology experience. By the end of the two years, you would have covered all contents of the curriculum. Optional third year is available for ACGME accredited Nephrology Critical Care line, or non ACGME accredited fellowship training in Interventional nephrology or Renal transplant, or ESRD administration. However, in your first year, you should target to accomplish the following:
A thorough approach to the patient with kidney disease, taking appropriate history and physical examination and generating an appropriate differential diagnosis.
A thorough understanding of the laboratory and imaging methods used to evaluate patients with kidney disease.
Learn as many procedures as possible and demonstrate competence.
Have a thorough understanding of the principles of hemodialysis, peritoneal dialysis, plasmapheresis, and continuous renal replacement therapies. The fellow would also learn how to write both acute and chronic prescriptions and manage complications of these therapies.
Understand the principles of immunosuppression and how to evaluate the potential renal transplant donor and recipient.
Learn to critically evaluate a scientific publication.
Design a research project with a faculty or mentor, aiming to have an abstract for any of the annual nephrology meetings.
In your second year, you should target to accomplish the following:
Acquire a thorough understanding of the pathophysiologic basis of kidney disease AND understanding of the management of the renal transplant recipient
Acquire more competence in the first-year objectives
Prepare patients physically and mentally for outpatient dialysis and take care of all aspects of outpatient dialysis
Pick a topic of choice and prepare for renal grand rounds as part of acquiring presentation skills
Acquire the ability to work in the private practice setting, including an understanding of documentation and billing guidelines
Acquire the highest level of professionalism and be prepared to represent the Nephrology Division at Downstate to the world
In our effort to enhance your learning, the division will provide a benefit of $250.00 per year towards the purchase of books. You will also be refunded for expenses up to a maximum of $1000.00 towards participation and or presentation at an annual nephrology meeting. Please refer to this manual and make the best out of it. Contact me if you have any suggestions. Good luck.
Moro O. Salifu, MD, MPH, MBA, FACP
Chair of medicine
Saggi Subodh J, MD, MPH
Professor of Medicine, Program Director
Director, SUNY Ambulatory dialysis.
Director, Pancreas transplant and extracorporeal therapies
Subodh.saggi@downstate.edu