Why Earn an MD/MPH degree?
Physicians have a calling to heal. By combining the clinical aspects of your medical degree with the science of an MPH, you will understand and improve health at both both the individual and community level.
Why Earn an MD/MPH from SUNY Downstate?
An MD/MPH from SUNY Downstate gives you the power to be a better physician. By earning a master of public health degree at the same time you earn your MD, you'll gain a deeper understanding of health and disease—one that many students say makes their medical studies easier.
As a healthcare institution in Brooklyn, a city unto itself with a population of 2.3 million, we see daily how inequities in healthcare affect our community. The MD/MPH program focuses on the health of immigrant and urban populations. You'll combine classroom study with clinical work as you seek solutions to narrow these gaps. Graduates can enter private practice, pursue careers in academic medicine and influence health care policy.
What You Will Learn
Choose two ways to finish your MPH classes: Over three summers, starting before the first year of medical school. Or during a 12-month hiatus between the third and fourth year of medical school.
Core public health classes cover topics such as biostatistics, epidemiology, health systems management, environmental health, health behavior, and risk reduction. Additional courses and electives depend on which of five concentrations you choose.
You'll gain a thorough grounding in both academics and ethics. Courses, fieldwork and service opportunities expose you to fundamental professional values.

Every MPH student completes a Culminating Experience, which integrates theory and practice. You'll be able to work with hospitals, community organizations, or government agencies on this project.

It is important to note that the MD/MPH degree is not a joint, dual degree. Instead, students earn the MPH concurrently while completing the MD degree.
---
Careers & Outcomes
An MD/MPH degree prepares you for a career in academic medicine. Leaders in community health, research, health policy, governmental agencies, and academic medicine often have an MPH.
Job Titles
Field Consultant
Health Educator
Epidemiologist
Public Health Advisor
Hospital Administrator
Employers
NYC Department of Health and Mental Hygiene
U.S. Navy
Doctors Without Borders
Arthur Ashe Institute for Urban Health
Concentrations
Students in the MD/MPH program can opt for an advising concentration in one of five areas:
Biostatistics
Focus on quantitative methods in this concentration, which includes courses on data analysis, designing clinical trials and statistics.
Community Health Sciences
Learn about issues that affect urban and immigrant communities, and how to design and implement programs that address common health challenges.
Environmental & Occupational Health Sciences
When physical, chemical or biological agents hurt the environment, they often hurt the people who live there. You'll learn to identify and manage threats through this concentration.
Epidemiology
Focus on urban and immigrant populations as you build the skills and knowledge to plan studies, collect data and draw conclusions about what you learn.
Health Policy & Management
Healthcare is a $3 trillion industry. This concentration trains new leaders to use those resources wisely, and identify areas ripe for change.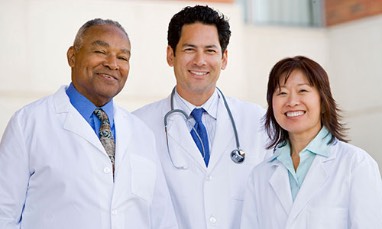 Meet Our Faculty
Cross-disciplinary training is a vital component of your medical education. As a student in the School of Public Health, you'll have the chance to work with nationally recognized public health leaders who are deeply integrated into the community. Each is passionate about reducing disparities in health care—a passion they'll share with you.
Global perspective.
MD/MPH students have priority access to Global Health in Developing Countries. You'll travel overseas as part of this elective, observing public health in a resource-poor country and delivering care.
Hands-on experience.
Classes integrate service learning experiences in the community. You'll conduct fieldwork at a local or state health agency or a local organization, putting your lessons to work in real life.
An MPH fits your schedule.
We've structured the MPH program so it doesn't interfere with any of your medical classes.