The Alan R. Shalita, M.D. Endowed Chair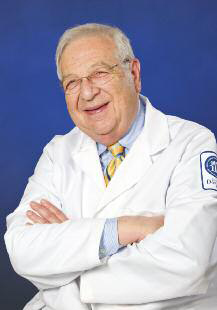 Dr. Alan R. Shalita, former Chairman, Department of Dermatology at SUNY Downstate Health Sciences University. From 1975 he was Chief of Dermatology for both University Hospital of Brooklyn and Kings County Hospital Center, and consultant in Dermatology Services for the Brooklyn VA Hospital.
A pioneer in the treatment of acne, Dr. Shalita was recognized nationally and world -wide for his skills as a clinician, researcher and educator in Dermatology.
Dr. Shalita served as President of the American Dermatological Association where he was an Honorary Member, and President of the Association of Professors of Dermatology. He was Vice President of the American Academy of Dermatology in 1995, chaired their Council on Scientific Assembly and Council on Communications and was granted Honorary Membership. He served as Deputy Secretary General of the World Congress of Dermatology for 4 years and was a member of the Society for Investigative Dermatology, American Medical Association, the New York Dermatologic Society and the International Society for Tropical Dermatology.
Dermatology at SUNY Downstate
Under Dr. Shalita's leadership the Department grew robustly from four full-time equivalent faculty and six residents in 1975, to eight full-time equivalent faculty, nineteen residents and seven fellows in dermatology and procedural dermatology. The Department's graduates are concentrated in the greater New York metropolitan area, and as far south as Florida and California to the west. At least four of our M.D.-PhD graduates, influenced to pursue careers in dermatology, have served on the full-time faculty of Cornell, Stony Brook, UCLA and Yale.
The Campaign
The Alan R. Shalita, M.D. Endowed Chair will insure that extraordinary vision and leadership are distinctions of the 21st Century SUNY Downstate Department of Dermatology.
The goal of our Campaign is to raise $2,000,000 for the Endowed Chair by June 2016. We are reaching out to You — our Alumni, our Corporate Friends, our Professional colleagues and our Patients — who share our Passion for the Department.
Join us in advancing Dermatology's Excellence in Leadership.
For Program Information Contact:
Alan R. Shalita Endowed Chair
SUNY DOWNSTATE MEDICAL CENTER
450 Clarkson Ave., Box 46
Brooklyn, NY 11203
phone: (718) 270-1229
For Clinical Information Contact:
Alan R. Shalita Endowed Chair
SUNY DOWNSTATE MEDICAL CENTER
760 Parkside Ave.
Brooklyn, NY 11226
phone: (718) 282-7234
For Information about Donating Contact:
Development & Philanthropy
SUNY DOWNSTATE MEDICAL CENTER
450 Clarkson Avenue, Box 93
Brooklyn, NY 11203
phone: (718) 270-6375
Advancing the Traditions of Compassion, Distinction and Excellence through the years