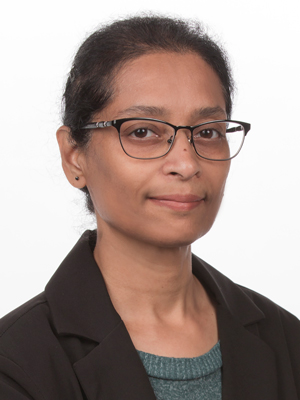 Sharifa Nasreen, MD, PhD, MPH
Assistant Professor
Department of Epidemiology and Biostatistics
Academic Qualifications:
MD: University of Dhaka
MPH: BRAC University
PhD: University of Western Ontario
Post-Doctoral Fellowship: University of Toronto Dalla Lana School of Public Health
Background and Expertise:
Dr. Sharifa Nasreen is an Assistant Professor in the Department of Epidemiology and Biostatistics in the School of Public Health at SUNY Downstate Health Sciences University. Dr. Nasreen is a medical epidemiologist with extensive public health research experience in low- and high-income country settings. Her research focuses on epidemiology of diseases of public health importance, primarily infectious diseases, including vaccine-preventable diseases.
She has led studies involving teams of interdisciplinary researchers and collaborated on projects on avian influenza, human influenza and other respiratory infections, evaluation of interventions to reduce avian influenza risks among live bird market workers, development of respiratory hygiene and handwashing promotion interventions, and development and assessment of perinatal handwashing interventions to reduce neonatal morbidity and mortality in Bangladesh. She was a recipient of the 'Novartis Vaccines Award for Epidemiology of Infectious Diseases' at the International Congress on Infectious Diseases in 2012. Her Post-Doctoral research involved epidemiology of invasive pneumococcal diseases and the safety and effectiveness of COVID-19 vaccines using health administrative data in Canada. Her impactful and policy-relevant research has resulted in publication of multiple peer-reviewed manuscripts in reputed journals, including the BMJ, Clinical Infectious Diseases, Emerging Infectious Diseases, Nature Microbiology, JAMA Network Open, and Vaccine. She is a Moderator for the Program for Monitoring Emerging Diseases (ProMED) reporting infectious disease outbreaks in South Asia contributing to the global emerging and re-emerging infectious disease surveillance landscape within a multidisciplinary global team. She serves as an External Expert Member of the Pediatric Pneumococcal Working Group of the Canadian National Advisory Committee on Immunization (NACI). She also serves on the editorial board of the Journal of Health, Population and Nutrition.
Publications:
https://www.ncbi.nlm.nih.gov/myncbi/sharifa.nasreen.1/bibliography/public/