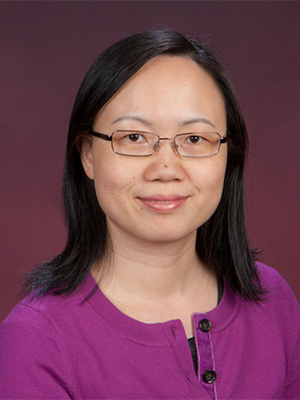 Jianying Zeng, MD

Department of Pathology
(718) 270-1288
718-270-3313
Office
SUNY Downstate MSC 25
450 Clarkson Avenue
Brooklyn, NY 11203
Office: BSB 4-137
Education and Training
Beijing Medical University, Beijing, China - Doctor of Medicine (1996)
University of California San Francisco School of Medicine - Postdoctoral Fellow, Neuroscience (2002-07)
SUNY Downstate Medical Center, Brooklyn, New York - Residency, Anatomic Pathology / Neuropathology fellowship (2009-13), Chief Resident, Anatomic Pathology (2012-13)
Memorial Sloan Kettering Cancer Center, New York, New York - Fellow, Oncologic Surgical Pathology (2013-14)
Certifications and Licenses
Anatomic Pathology Board certified, July 2013
Neuropathology Board certified, September 2013
New York State Medical License (License number 268691, issue date: 2/11/2013)
NPI number: 1134358773
Abstract:

Li T, Diks J, Nguyen S, Zeng J, Chen N, Vignesh S. Next-Generation sequence proves clonal relationship between two distinguished lung and liver carcinomas by standard histopathologic approach. Presented at the American College of Gastroenterology Annual meeting. Las Vegas, NV, October 22-27, 2021.
Tsai FF, Mukhopadhyay C, Zeng J, Shinder R. Bilateral marked dacryops following trauma. Orbit 2012; 31: 435-437.
Zeng J, Ogera P, Benardette EA, Nicastri AD, Rao C. Cellular solitary fibrous tumor (Hemangiopericytoma) with anaplasia at cerebellopontine angle, a case report. Pathol Res and Pract 2012; 208: 493-496.
Zeng J, Liu J, Yang GY, Kelly MJ, James TL, Litt L. Exogenous Ethyl Pyruvate versus Pyruvate during Metabolic Recovery after Oxidative Stress in Neonatal Rat Cerebrocortical Slices. Anesthesiology 2007; 107: 630-640.
Zeng J, Yang GY, Ying W, Kelly M, Hirai K, James TL, et al. Pyruvate improves recovery after PARP-1-associated energy failure induced by oxidative stress in neonatal rat cerebrocortical slices. J Cereb Blood Flow Metab 2007; 27: 304-315.
Zeng J, Hirai K, Yang GY, Ying W, Swanson RA, Kelly M, et al. Using 31P NMR spectroscopy at 14.1 Tesla to investigate PARP-1 associated energy failure and metabolic rescue in cerebrocortical slices. J Bioenerg Biomembr 2004; 36: 415-419.