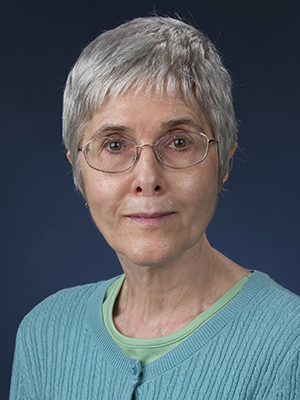 Janet Schneller, MD
Clinical Professor of Pathology
Department of Pathology
Division of Surgical Pathology
(718) 270-7319
(718) 270-4168
Office
BSB 4-9

Education and Training
BA (Biology): CUNY Queens College (1975)
MD: New York Medical College (1979)
Residency: Brookdale Hospital (Internship 1979-80)
St. Luke's-Roosevelt Medical Center (Pathology Residency 1980-1984)
Montefiore Hospital (Cytopathology Fellowship 1984-85)
Committees , Council, and Professional Society Memberships
1991 to present: Surgical Case Review Committee, Kings Co Hospital (Chairperson since January 2007)
1996 to present: Academic Promotions Committee College of Medicine SUNY Downstate Medical Center
2000 to present: Institutional Review Board - Alternate SUNY Downstate Medical Center
Clinical Interest Summary
I have enjoyed being a surgical pathologist and cytopathologist at Downstate Medical Center and Kings County Hospital for many years. I approach each case as if it were a puzzle to be solved,and especially like the challenging ones. The great thing about Surgical Pathology is that you never know which case is going to be challenging until you actually see all the slides and come to a conclusion. It is incredibly important work, as major clinical decisions are constantly made on your diagnoses.
My other main interest is teaching, and there is ample opportunity to do this both at Downstate and at Kings County Hospital. In addition to lecturing and conducting medical student seminars, I am also involved in teaching anatomic patholgy residents, both in seminars and one-on-one on a daily basis during surgical and cytopathology sign-out.
My work outside of the pathology department has helped me to understand some of the innumerable facets of what it takes to run such large institutions as Kings County and Downstate. I have learned much of the behind-the-scenes life of medical school by serving on the Academic Promotions Committee and by interviewing prospective medical students. Serving as a member and recently as the Chairperson of the Surgical Case Review Committee at Kings County Hospital, has shown me the methods used to ensure that the care given to patients is maintained at the highest standards.
Although not primarily a researcher, I have been fortunate to work with Dr. Eugene Straus, formerly head of Gastroenterology at Downstate and with Dr. Robert Raffaniello on Helicobacter pylori and more recently on the relation of the myeloperoxidase gene in reactive inflammatory cells with gastric cancer.
As you can probably tell, I find my work at Downstate Medical Center and Kings County Hospital to be diverse, challenging, and rewarding!
Steenport M, Eom H, Vezu M, Schneller J, Gupta R, Mustafa Y, Villanueva R, Straus EW, Raffaniello RD: Association of polymorphisms in myeloperoxidase and catalase genes with precancerous changes in the gastric mucosa of patients in inner city hospitals in NY. Oncol Rep 2007 Jul;18(1):235-40.
Schneller J, Gupta R, Mustafa J, Villanueva R, Straus EW, Raffaniello RD: Helicobacter pylori Infection is Associated with a High Incidence of Intestinal Metaplasia in the Gastric Mucosa of Patients at Inner-City Hospitals in New York. Digestive Diseases and Sciences. Vol. 51, No.10 Oct 2006.
Schneller J, Levi G, Li R: Unexpected Black Pigmentation in an Ovarian Cystic Teratoma. ASCP CheckSample Surgical Pathology II, Volume 26, Number 6, 2002.
Schneller J: Multifocal glomangiomyomas in the chest wall of a young man. Archives of Pathology and Laboratory Medicine. 125. 1146-7. 2001.
Schneller J, Solomon M, Webber CA, Nasim M: Mucinous cystadenocarcinoma of the parotid gland. Acta Cytologica. 45(4) 605-9. 2001.
Schneller J, Distant D, Kirwin J, Muller B: Streamlining review of negative appendectomies. Surgical Rounds. 23 (11) 661-4. 2000.
Yusuf SI, Schneller J: Esophageal Cancer. An unusual endoscopic appearance and presentation. Journal for the Association of Minority Physicians. 10 (4): 94-7. 1999.
Remy J, Schneller J, Maiman M, Miller S, Nicastri A, Boyce J: Undifferentiated ovarian malignancy in an adolescent. Journal of the Association of Haitian Physicians Abroad. 1(1): 48, 1997.