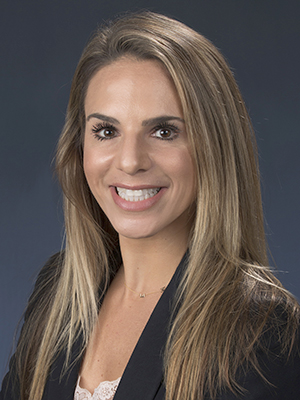 Kristina Loukeris, MD
Associate Professor, Residency Program Director, Cytopathology Director
Department of Pathology
Divisions of Surgical Pathology, Perinatal Pathology, Cytopathology
(718) 270-2648
(718) 270-3313
Education and Training
2001-2005, MD. Rosalind Franklin University of Medicine and Science Chicago Medical School
2005-2009, Anatomic Pathology Residency, Weill Cornell Medical Center
2009-2010, Cytopathology Fellowship, Weill Cornell Medical Center
2010-2011, Gynecologic and Perinatal Pathology Fellowship, Weill Cornell Medical Center
Baqir AW, Alawad M, Loukeris K, A Fatal Cause of Small Bowel Obstruction. Gastroenterology 2019 Jun; 156(8):e14-e15. https://doi.org/10.1053/j.gastro.2019.01.258. PMID: 30716325

Mendoza R, Loukeris K. Primary Epithelioid Angiosarcoma of the Breast: A Rare and Challenging Biopsy Diagnosis. Am J Case Rep. 2019 Apr 3;20:437-440. doi: 10.12659/AJCR.913068. PMID: 30940796

Hoda RS, Loukeris K, MD, Abdul-Karim FW, "Gynecologic Cytology on Conventional
and Liquid-Based Preparations: A Comprehensive Review of Similarities and Differences." Diagn Cytopathol. 2013 Mar;41(3):257-78. PMID: 22508662
Crapanzano JC, Loukeris K, Borczuk AC, Saqi A, "Cytological, Histological, and
Immunohistochemical Findings of Pulmonary Carcinomas with Basaloid Features." Diagn Cytopathol. 2011 Feb 39; (2):92-100. PMID: 21254456
Adams BN, Brandt JS, Loukeris K, Holcomb K, "Embryonal Rhabdomyosarcoma of
the Cervix and Appendiceal Carcinoid ." Obstet. Gynecol. 2011; Feb 117(2 Pt 2):482-4. PMID: 21252797
Loukeris K, Vazquez MF, Sica G, Wagner P, Yankelevitz DF, Henschke CI, Cham MD, Saqi A, "Cytological cell blocks: Predictors of squamous cell carcinoma and adenocarcinoma subtypes." Diagn Cytopathol. 2010 Nov 22. PMID: 22508674
Loukeris K, Salvatore S, Hoda RS "Pulmonary Zygomycoses in an Immunosuppressed Patient." Diagn Cytopathol. 2011 Jan; 39(1):37. PMID: 20091896
Loukeris K, Sela R, Baergen RN "Frequency of Syncytial Knots in the Placenta at
Different Gestational Ages." Pediatr Dev Pathol. 2010 Jul-Aug;13(4):305-9. PMID: 20017638
Chiu VK, Silletti J, Dinsell V, Wiener H, Loukeris K, Ou G, Philips MR, Pillinger MH.
"Carboxyl methylation of Ras regulates membrane targeting and effector engagement" J. Biol. Chem., Vol. 279, Issue 8, 7346-7352, 2004. PMID: 14660603
Loukeris, K. "Characterization of the c-jun Promoter and the Transcriptional Regulatory Protein ATF1" Senior Thesis, Department of Chemistry, Columbia University, May 2000.
Loukeris, K. "Horizons of Expectation: A Gendered View on Greek Immigration" Senior Thesis, Department of Classics, Columbia University. May 2000.