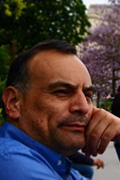 Juan Marcos Alarcón, PhD
Associate Professor
Department of Pathology
Division of Neuroscience
(718) 270-8348
(718) 270-3313
Office
Office location: 4-113
Lab Tel: (718) 221-5325
Research Interest Summary
Understanding how the brain changes with experience is a fundamental question in neuroscience. Our research projects attempt to address this question by characterizing how neuronal and synaptic circuit function changes by experience-driven neural activity.
Learn more about our laboratory at: www.alarconlab.com
Research Questions
How are memory experiences organized within neural ensembles and synaptic circuits?
What processes and mechanisms underlie the organization of a memory?
How does the organization of a memory evolve over time?
How do new memory experiences shape an extant memory organization?
Grants
R25 NS120283 01 (Alarcon, Libien, mPI) 01/01/21-12/31/25
NINDS, "REACH pipeline summer research experience for minority and underrepresented high school and undergraduate students."
The Research Experience in Autism for College and High School students (REACH) is an eight-week pipeline summer course for minorities and underrepresented students interested in the field of neuroscience. REACH's long- term goal is to increase access and retention of underrepresented minorities in science and their representation and decision-making influence within our nation.
Fyke W, Alarcon JM, Velinov M, Chadman KK. Pharmacological inhibition of the primary endocannabinoid producing enzyme, DGL-α, induces autism spectrum disorder-like and co-morbid phenotypes in adult C57BL/J mice. Autism Res.

2021 Jul;14(7):1375-1389.

PMID: 33886158

Fyke W, Alarcon JM, Velinov M, Chadman KK. Pharmacological inhibition of BKCa channels induces a specific social deficit in adult C57BL6/J mice. Behav Neurosci.

2021 Aug;135(4):462-468

. PMID: 33734729

Hsieh C, Tsokas P, Grau-Perales A, Lesburguères E, Bukai J, Khanna K, Chorny J, Chung A, Jou C, Burghardt NS, Denny CA, Flores-Obando RE, Hartley BR, Rodríguez Valencia LM, Hernández AI, Bergold PJ, Cottrell JE, Alarcon JM, Fenton AA, Sacktor TC. Persistent increases of PKMζ in memory-activated neurons trace LTP maintenance during spatial long-term memory storage. Eur J Neurosci.

2021 Oct;54(8):6795-6814

. PMID: 33540466

Harris RM, Kao HY, Alarcon JM, Hofmann HA, Fenton AA. (2019) Hippocampal transcriptomic responses to enzyme-mediated cellular dissociation. Hippocampus. doi: 10.1002/hipo.23095. PMID: 31087609
Arora K, Sequeira JM, Alarcon JM, Wasek B, Arning E, Bottiglieri T, Quadros EV. (2019) Neuropathology of vitamin B12 deficiency in the Cd320-/- mouse. FASEB Journal. 33(2):2563-2573. doi: 10.1096/fj.201800754RR. PMID: 30303736
Talbot ZN, Sparks FT, Dvorak D, Curran BM, Alarcon JM, Fenton AA. (2018) Normal CA1 Place Fields but Discoordinated Network Discharge in a Fmr1-Null Mouse Model of Fragile X Syndrome. Neuron;97(3):684-697. doi: 10.1016/j.neuron.2017.12.043. PMID 29358017.
Chung A, Dahan N, Alarcon JM, Fenton AA. (2017) Effects of regulatory BC1 RNA deletion on synaptic plasticity, learning, and memory. Learning & Memory;24(12):646-649. doi: 10.1101/lm.045617.117. PMID:29142061.
Arora K, Sequeira JM, Hernández AI, Alarcon JM, Quadros EV. (2017) Behavioral alterations are associated with vitamin B12 deficiency in the transcobalamin receptor/CD320 KO mouse. PLoS One. e0177156. PMID: 28545069 PMCID: PMC5436650 DOI: 10.1371/journal.pone.0177156
Pavlowsky A, Wallace E, Fenton AA, Alarcon JM. (2017) Persistent modifications of hippocampal synaptic function during remote spatial memory. Neurobiology of Learning and Memory. PubMed PMID: 27568918.
Allen KD, Gourov AV, Harte C, Gao P, Lee C, Sylvain D, Splett JM, Oxberry WC, van de Nes PS, Troy-Regier MJ, Wolk J, Alarcon JM, Hernández AI. (2014) Nucleolar integrity is required for the maintenance of long-term synaptic plasticity. PLoS One. (8):e104364. doi: 10.1371/journal.pone.0104364. PMID: 25089620 PMCID: PMC4121280
O'Reilly KC, Alarcon JM, Ferbinteanu J. (2014) Relative contributions of CA3 and medial entorhinal cortex to memory in rats. Frontiers Behavioral Neuroscience. 28;8:292. doi: 10.3389/fnbeh.2014.00292. PMID: 25221487 PMCID: PMC4148030
Udagawa T, Farny NG, Jakovcevski M, Kaphzan H, Alarcon JM, Anilkumar S, Ivshina M, Hurt JA, Nagaoka K, Nalavadi VC, Lorenz LJ, Bassell GJ, Akbarian S, Chattarji S, Klann E, Richter JD. (2013) Genetic and acute CPEB1 depletion ameliorate fragile X pathophysiology. Nature Medicine. doi: 10.1038/nm.3353. PMID: 24141422 PMCID: PMC3823751
Pavlowsky and Alarcon, J.M. (2012) Interaction between Long-Term Potentiation and Depression in CA1 Synapses: Temporal Constrains, Functional Compartmentalization and Protein Synthesis. PLoS One. 7(1):e29865. PMID: 22272255 PMCID: PMC3260185