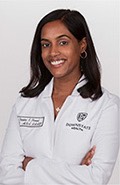 Christine S. Persaud, MD, MBA, FAAFP
Assistant Professor
Division of Sports Medicine
Department of Orthopedic Surgery and Rehabilitation Medicine
Dr. Christine S. Persaud is a Primary Care Sports Medicine Physician at SUNY Downstate Medical Center and currently serves as Medical Director for the Division of Sports Medicine. Dr. Persaud earned her medical degree at Ross University Medical School in Dominica in the West Indies and completed her clinical rotations in New York City. She completed her Family Medicine residency training at Stony Brook University Medical Center in Stony Brook, Long Island. There she was appointed as Chief Resident and was awarded the Society of Teachers in Family Medicine (STFM) Award as well as the Chairman's Award. She went on to serve as a Fellow in non-operative sports medicine at the University of Rochester Medical Center specializing in Primary Care Sports Medicine. Dr. Persaud is board certified in Family Medicine with a Certificate of Added Qualifications in Sports Medicine. She is the only credentialed ImPACT Consultant (CIC) for Athletic Concussions in the borough of Brooklyn.
When not practicing medicine, Dr. Persaud enjoys working out and her hobbies include traveling and spending time with family and friends.
Subspecialty
Dr. Persaud specializes in the treatment of non-operative athletic injuries, family medicine, chronic musculoskeletal diseases, concussion management musculoskeletal ultrasound. Dr. Persaud is actively involved in research and teaching SUNY Downstate's Orthopaedic, Rehabilitation and Family Medicine Residents. Currently, Dr. Persaud serves as a attending physician for PSAL's Brooklyn football teams and SUNY Downstate's Walk-In Injury Clinic. She is also the team physician at her alma mater, Brooklyn Technical High School.