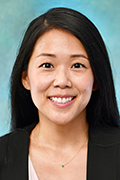 Jennifer Park, MD
Director of Cornea Service
Assistant Professor of Ophthalmology
Department of Ophthalmology
(718) 270-1714, (718) 780-1530
Background and Expertise:
Dr. Park is a board certified ophthalmologist and fellowship trained cornea specialist. She manages corneal disorders and cataracts with the latest medical and surgical techniques. She also practices comprehensive ophthalmology. Dr. Park sees patients at Downstate's faculty practice in Midwood and Brooklyn Heights. She also educates residents, teaching future ophthalmologists at Kings County Hospital.
Dr. Park completed her residency at the New York Eye and Ear Infirmary and received the Chairman's Award for Academic Honors and Distinction as a resident. After graduating, she completed a fellowship in cornea, refractive surgery, and external diseases at the Illinois Eye and Ear Infirmary, one of the top cornea fellowships in the nation.
She treats patients with various corneal diseases, including corneal and conjunctival infections, keratoconus, corneal edema, corneal scars, pterygium, autoimmune corneal disease, dry eye, and allergy-related eye disease. Dr. Park performs various types of corneal transplantation, including DMEK, DSAEK, DALK, penetrating keratoplasty, and keratoprosthesis implantation. She also performs cataract surgery, including toric and multifocal lens implantation, and refractive surgery.
She is a born and raised New Yorker and is excited to practice in her home city.
Research Interests:
Ocular surface disease
Keratoprosthesis
Microbial keratitis
Education:
Undergraduate: Brown University, Providence, RI
Medical School: Albert Einstein College of Medicine, Bronx, NY; Alpha Omega Alpha Medical Honor Society
Internship: Mount Sinai Beth Israel, New York, NY
Residency: New York Eye and Ear Infirmary of Mount Sinai
Fellowship: Illinois Eye and Ear Infirmary (University of Illinois at Chicago), Chicago, IL
Wang D, Artymowicz A, Park J. A Child With Severe Autism Spectrum Disorder With Bilateral Corneal Ulcers. JAMA Ophthalmol. 2022 Jun 1;140(6):650-651.
Park J, Karas FI, de la Cruz J, Cortina MS (2021). Keratoprosthesis. In: Albert D., Miller J., Azar D., Young L.H. (Eds.), Albert and Jakobiec's Principles and Practice of Ophthalmology. Springer, Cham.
Park RB, Jain S, Han H, Park J. Ocular surface disease associated with immune checkpoint inhibitor therapy. Ocul Surf. 2021 Feb 19;20:115-129.
Park J and de la Cruz J (2021). Boston keratoprosthesis type 1 surgical technique. In MJ Mannis and EJ Holland (Eds.), Cornea: Surgery of the cornea and conjunctiva (5th ed, pp.1562-1566). Elsevier Inc.
Park J, Phrueksaudomchai P, Cortina MS. Retroprosthetic membrane: A complication of keratoprosthesis with broad consequences. Ocul Surf. 2020 Oct;18(4):893-900.
Park J. From cornea to corona. Ocul Surf. 2020;18(3):381-382. Article also featured in Doximity's Op-Med section on May 6, 2020: Article Link »
Park J, Bueno CS, de la Cruz J. Femtosecond laser-assisted cataract surgery (FLACS) in resident training. Ann Eye Sci 2018;3:60.
Chaugule SS, Park J, Finger PT. Topical chemotherapy for giant ocular surface squamous neoplasia of the conjunctiva and cornea: Is surgery necessary? Indian J Ophthalmol. 2018 Jan;66(1):55-60.
Park J, Lee KM, Zhou H, Rabin M, Jwo K, Burton WB, Gritz DC. Community practice patterns for bacterial corneal ulcer evaluation and treatment. Eye and Contact Lens. 2015 Jan;41(1):12-8.
Park J and Gritz DC. Evolution in the use of intrastromal corneal ring segments for corneal ectasia. Current Opinion in Ophthalmology 2013 Jul;24(4): 296-301