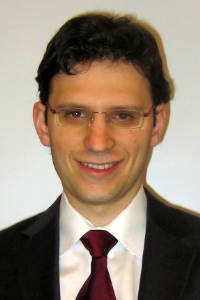 Ilya Leskov, MD, PhD
Clinical Assistant Professor of Ophthalmology
Department of Ophthalmology
(718) 270-1714, (718) 780-1530
Background and Expertise
Ilya Leskov, MD, PhD is a fellowship-trained specialist in vitreoretinal diseases and surgery. He graduated from a combined MD-PhD program at Harvard Medical School and the Massachusetts Institute of Technology, following which he completed his ophthalmology residency at the Massachusetts Eye and Ear Infirmary (Boston, MA) and fellowship in vitreoretinal surgery at Northwestern University (Chicago, IL). Since 2018, Dr. Leskov has been on the faculty at SUNY Downstate, and has also been teaching residents and fellows as the Director of the Retina Service at Kings County Hospital.
Dr. Leskov specializes in medical and surgical treatments of such conditions as diabetic retinopathy, age-related macular degeneration, retinal vascular occlusions, vitreoretinal infections and uveitis, macular holes, and retinal tears and detachments. He also has a special interest in managing complications from cataract surgery and displaced intraocular lenses. He is fluent in Russian and French, and he sees patients at SUNY Downstate's faculty practices in the Midwood and Brooklyn Heights areas.
Research Interests
Dr. Leskov is an author of numerous peer-reviewed publications and book chapters in the fields of oncology, retinal biochemistry and pathophysiology, as well as novel surgical techniques. His research interests include the pathophysiology of diabetic retinopathy and sickle cell retinopathy, novel surgical techniques and their outcomes, innovative imaging in retinal diagnostics, as well as the socioeconomic determinants of adherence to treatment of vitreoretinal diseases.
Education
Undergraduate (BA): Swarthmore College (Swarthmore, PA)
Medical School (MD): Harvard Medical School (Boston, MA)
Graduate School (PhD): Massachusetts Institute of Technology (Cambridge, MA)
Residency (Ophthalmology): Massachusetts Eye and Ear Infirmary (Boston, MA)
Fellowship (Vitreoretinal Diseases and Surgery): Northwestern University (Chicago, IL)