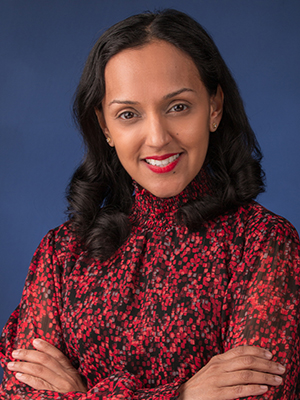 Jameela Yusuff, MD
Associate Professor of Medicine
Infectious Diseases
(718) 270-6747 / 3745
(718) 270-2298
Dr. Yusuff, Associate Professor of Medicine, joined University Hospital at Downstate as Chief Medical Officer in April 2021. She began working with STAR-Downstate in 2006 and subsequently served as its Medical Director until April 2021. Dr. Yusuff remains an Attending Physician at STAR-Downstate. She is a graduate of Mt. Sinai School of Medicine and is board certified in Internal Medicine, Infectious Diseases and Addiction Medicine. In 2012 she received a Master of Public Health from SUNY Downstate's School of Public Health. In 2020, Dr. Yusuff earned a Master of Science in Healthcare Delivery Leadership from the Icahn School of Medicine at Mt.Dr. Yusuff received a JetBlue Healthcare Heroes Award resulting from staff nominations, and she received an Award for Excellence from SUNY Downstate Health Sciences University based on patient nominations. In 2022, Dr. Yusuff was named as an Exceptional Woman in Medicine by Castle Connelly. Dr. Yusuff is also on the National Quality Forum's Opioid and Behavioral Health Committee, CUNY Medical School Board of Directors and Communilife Board of Directors.
Research Interests:
Smoking Cessation and HIV, HIV/HCV Coinfection
Current Projects:
Barriers to HCV treatment: Comparison of Coinfected vs. Monoinfected Patients; Smoking Cessation Interventions Among HIV Patients.
Education and Training:
Medical School: Mt. Sinai School of Medicine
Internal Medicine: Beth Israel Medical Center
Infectious Diseases: Beth Israel Medical Center
Currently enrolled in School of Public Health at SUNY DMC to finish MPH
Why I enjoy working at SUNY Downstate:
I particularly enjoy the dedication, commitment and comaderie among the staff. The educational and research opportunities are plentiful and the enthusiasm of the housestaff is infectious.
Mailing Address:
450 Clarkson Avenue, MSC 1240
Brooklyn, NY 11203
Yusuff, Jameela and Kuntz, Katharine. Treatment Initiation of First line Antiretrovirals in HIV-infected Individuals. IAS-USA, Cases on the Web, submitted July 22, 2016.
Park, Tae Eun, Yusuff, Jameela, Sharma, Roopali. Use of aspirin and statins for the primary prevention of myocardial infarction and stroke in patients with HIV infection." International Journal of STD & AIDS (Accepted, Article number: 585448)
Sarkar S, D'Amico R, Yusuff J, Azar E, and Perlman D.PML with Isolated Cerebellar Involvement in HIV Patients, Scandanavian Journal of Infectious Diseases January 2007 39:4, 34-350.