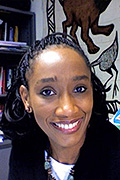 Tonya N. Taylor, PhD, MS
Assistant Professor
College of Medicine
Special Treatment and Research (STAR) Program
(718) 221-6113
(718) 804-3386
Education
BA:
International Relations and Political Science (Double Major); Minor, Spanish Language and Literature, Boston University, 1990
MA:
Anthropology, University of Pennsylvania, 1998
Thesis Title: "Reading (SNAP!) is Fundamental: A Discursive Strategy for Social Conformity In the Black Gay Community
Joint PhD:
Anthropology and Folklore & Folklife, University of Pennsylvania, 2005
Dissertation Title: "Healing the Trauma of Everyday Life: Traditional Medicine and HIV/AIDS in Rural Zimbabwe."
Certificate African Studies, University of Pennsylvania, 2005
MS:
Biostatistics (Clinical Research Methods), Mailman School of Public Health, Columbia University, 2009
Training
Career Development Award (KO1 MH095670). The Prevention Needs of Older Women with HIV, National Institute of Mental Health (NIMH), 2011.
T32 Postdoctoral Training: "Behavioral Sciences Research in HIV Infection" HIV Center for Clinical and Behavioral Studies, Columbia University and New York State Psychiatric Institute, 2009
Butler-William Scholar, 2013 Summer Institute on Aging Research, National Institute of Aging
Advanced Research Institute in Geriatric Mental Health Scholar. 2014-2016
Career / Research Interests
HIV/AIDS
HIV and Aging
Sexual and Reproductive Culture
Health- and Treatment-Seeking Behaviors
Comparative Systems of Health and Healing
HIV Prevention
Sexual Risk Behaviors
Health Disparities
Southern and Eastern Africa
Taylor, T. N., Munoz-Plaza, C., Goparaju, L., Stephen E. Karpiak, S.E., Minkoff, H.L., Holman, S., ... & Wilson, T. E. (2016). "The pleasure is better as I've gotten older": Sexual Health, Sexuality, and Sexual Risk Behaviors among Older Women Living with HIV. Archives of Sexual Behavior, In Press
Taylor, T. N., Weedon, J., Golub, E. T., Karpiak, S. E., Gandhi, M., Cohen, M. H., ... & Wilson, T. E. (2014). Longitudinal Trends in Sexual Behaviors with Advancing Age and Menopause Among Women With and Without HIV-1 Infection. AIDS and Behavior, 1-10. DOI 10.1007/s10461-014-0901-1
Wilson, T. E., Fraser-White, M., Williams, K. M., Pinto, A., Agbetor, F., Camilien, B., Henny, K., Browne, R., Gousse, Y., Taylor, T., Brown, H., Taylor, R., Joseph, M. A. (2014). Barbershop Talk With Brothers: Using Community-Based Participatory Research to Develop and Pilot Test a Program to Reduce HIV Risk Among Black Heterosexual Men. AIDS education and prevention: official publication of the International Society for AIDS Education,26(5), 383.
Taylor, TN., Joseph, MA., Henny, KD., Pinto, AR., Agbetor, F., Camilien, B., Williams, KM., Browne, RC., White, M., Gousse, Y., Brown, H., Taylor, RD., Wilson, TE. Perceptions of HIV Risk and Explanations of Sexual Risk Behavior Offered by Heterosexual Black Male Barbershop Patrons in Brooklyn, NY. (In Press) In Journal of Health Disparities Research and Practice
Taylor, TN., Mantell, JE., Nywagi N., Cishe, N., Cooper, D. (2014) "He lacks his fatherhood": Assisted reproductive technologies and the biological imperative of fatherhood among Xhosa-speaking men living with HIV in South Africa. Culture Health and Sexuality, 15(9), 1101-1114.
Taylor, Tonya N., and Stephen Karpiak. (In Press). "HIV Prevention in Persons 50 and Older." In Encyclopedia of AIDS. Thomas Hope, Douglas D. Richman, Mario Stevenson [Eds.] Springer Science+ Business \Media, LLC.
Shaw R, McKenzie S, Taylor T, Olafiranye O, Boutin-Foster C, Ogedegbe G, Jean-Louis G. Beliefs and attitudes toward obstructive sleep apnea evaluation and treatment among blacks. Journal of the National Medical Association. 2012, 104(11-12):510-519. (PMID:23560353)
Valera, Pamela, & Taylor, Tonya. The religious experiences of Black married men who have sex with men. Journal of Black Psychology, 2011;42(1):106-22.
Taylor, Tonya N. "Because I was in Pain:" The Performance of Healing in the Care and Treatment of HIV/AIDS in rural Zimbabwe. Journal of American Folklore, Volume 123, Number 489, Summer 2010, pp. 304-328
Taylor, Tonya N., Dolezal, C, Tross, S Holmes, W. The Reliability and Validity of Two HIV/AIDS- specific quality of life instruments with a presumptive HIV+ population in rural Zimbabwe. In AIDS Car, Vol. 21, No. 5, May 2009, 598-607
Taylor, Tonya N., Dolezal, C, Tross, S Holmes, W. Comparison of HIV/AIDS- specific Quality of Life Change in Zimbabwean Patients at Biomedical versus Traditional Medicine Care Sites. In J Acquir Immune Defic Syndr. 2008 Dec 15; 49(5):552-6.
Taylor, Tonya N. (2007) A Place of Troubles: The Political Ecology of HIV/AIDS in Chipinge, Zimbabwe. In Safundi: Volume 8, Issue 2 April 2007, pages 223 - 256
Taylor, Tonya. (2004) Shona Folklore. In Encyclopedia of African Folklore edited by Philip Peek and Kwesi Yankah. New York and London: Routledge.
Taylor, Tonya. (1998) Blaming the Infected Other: An Epidemic of Discrimination. University of Pennsylvania 5th Annual African Studies Conference http://www.sas.upenn.edu/African_Studies/Workshop/workshop6.html.