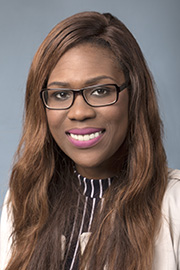 Andrea Trimmingham , MA, PA-C
Chair & Program Director, Assistant Professor
Physician Assistant Program
Education:
MA – Queens College, Urban Studies
BS – SUNY Downstate Medical Center, Physician Assistant
BA – Brooklyn College, African American Studies/Communications
Clinical Practice:
She is a graduate of the SUNY Downstate PA program. She has more than ten years of clinical practice experience in the Primary Care, Orthopedics, Internal Medicine areas.
Responsibilities:
Didactic instruction in the Clinical Procedures, Pathophysiology, Physical Diagnosis, Pharmacotherapeutics, Adult Primary Care Medicine and across other courses in the PA program curriculum. Provides supervision to clinical year students and also tasked with overseeing the students board review efforts. Also participates in student admissions, advisement and program evaluation. She contributes to the program's continuous self-assessment and accreditation process.