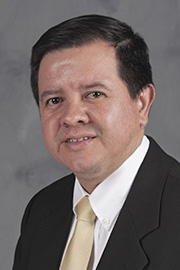 Edison Ruiz, MPH, PA-C
Assistant Professor/ Clinical Coordinator
Physician Assistant Program
Education:
MPH – Brooklyn College, Brooklyn, New York
BS – SUNY Downstate Medical Center, Physician Assistant
BS – Brooklyn College, Biology
Clinical Practice:
Has more than 13 years of clinical practice experience in the Obstetrics/Gynecology, Family Medicine and Emergency Medicine Departments. He continues to practice in these areas.
Responsibilities:
Didactic instruction in the Clinical Microbiology and Immunology, Pathophysiology, Physical Diagnosis, Health Promotion and Disease Prevention, Adult Primary Care Medicine, Clinical Decision-Making and Clinical Skills. Clinical Coordination, Participation in Student Admissions, Student Advisement and Program Evaluation. Assisting with student admissions, student mentorship and advisement, and participating in college and campus-wide committees. He contributes to the program's continuous self-assessment and accreditation process.