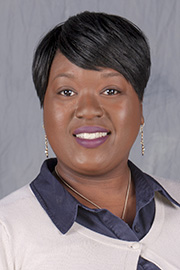 Natasha N. Roberts, BS, MA, MBA
Program Administrator
Physician Assistant Program
Education:
MBA - Healthcare Administration, State University of New York, Oswego
MA – Urban Studies, Queens College
BS – Health Administration, Lehman College
Responsibilities:
Provides administrative and customer service support to PA faculty and students. She manages all course, clerkship, applications, student and graduate data. Also designs survey instruments, maintains correspondence with students, instructional faculty and other key program constituents. Provides secretarial, computer and technical support for the Program. Maintains and manages the programs accounts and liaises with the campus accounts payable office. Plans, supports program special events and ensures procurement of needed office supplies. Other responsibilities based on program needs.