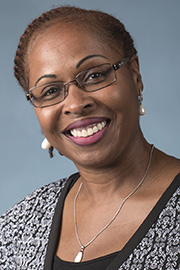 Jennifer Etheridge-Otey, DMSc, MPAS, PA-C
Academic Coordinator and Assistant Professor
Physician Assistant Program
Education:
DMSc - Physician Assistant Education Concentration, University of Lynchburg, Virginia
MPAS – University of Nebraska Medical Center
BS – SUNY Downstate Physician Assistant, Brooklyn, NY - Physician Assistant
BBA – CUNY Bernard Baruch College, NY
Clinical Practice:
Has over 20 years of clinical practice experience in Family Medicine and continues to work in this area.
Responsibilities:
She is principal faculty charged with managing all aspects of the didactic curriculum per ARC-PA accreditation guidelines. She manages communication with principal and instructional faculty with regard to all issues concerning course content, learning objectives scheduling, evaluation, revision and remediation as necessary.
Monitors all didactic student progress and communicate assessment during faculty meetings, annual retreat, and other mechanisms. Coordinate student and faculty evaluation of courses and work with program chair to assess and evaluate data. Maintain didactic records, correspondences, schedules, and student performance data. She participates in the program's continuous self-assessment and accreditation process. Oversees all program affairs in the absence of the Program Chairperson
Instructional Responsibilities:
She provides classroom instruction in Interviewing & Physical Diagnosis, Pathophysiology, Adult Primary Care Medicine, Long Term Care-Gerontology and Clinical Procedures/Skills. Supervises clinical year students and also conducts student advisement.