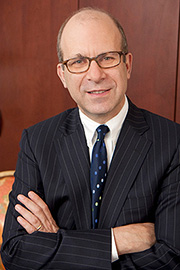 Jack DeHovitz, MD, MPH
Distinguished Service Professor
Physician Assistant Program
Research Interests:
Global health, HIV disease in women, the impact of HIV on cardiovascular health, and the link between substance use and HIV infection.
Current Projects:
STAR Health Center
NIH funded AIDS International Training Program focused in Central and Eastern Europe
SAMHSA funded studies in HIV and substance use
Additionally Dr. DeHovitz was recently awarded a SAMSHA grant focusing on Screening, Brief Intervention and Referral to Treatment (SBIRT). This is an evidence based practice used to identify, reduce, and prevent problematic use, abuse, and dependence on alcohol and illicit drugs. This training program will be offered to PA students as well as midwifery students and residents.
PA Program HIV Track

Provides guidance and supervision on the HIV Track curriculum, the Infectious Disease module of the Adult Primary Care Medicine course, to ensure appropriate clinical depth, focus and relevance in these respective areas and their implication to the practice of medicine in the urban community.
Provides guidance in the identification and recruitment of clinical training sites and preceptors for the STAR Health Center/PA Program HIV Track.
Provides guidance and mentorship for PA faculty in the supervision of the PA Program HIV Track and other grant funded projects.
Provides didactic instruction in Infectious Disease/Adult Primary Care Medicine, Health Promotion and Disease Prevention, and clinical preceptorship in Primary Care and the HIV Sub-specialty Clerkships.
Education and Training:
1970 – 1974 B.S. Genetics, University of California, Davis
1974 – 1975 M.P.H. Community Health, Center at Houston, School of Public Health
1976 – 1980 M.D. The University of Texas Medical Branch (with High Honors), Galveston, Texas
1980 – 1981 Intern in Medicine St. Vincent's Hospital and Medical Center, New York, NY
1981 – 1982 Assistant Resident in Medicine The New York Hospital-Cornell Medical Center, New York, NY
1983 – 1985 Strang Fellowship in Public Health Cornell University Medical College, New York, NY
1983 – 1985 Fellow, International Medicine (Infectious Diseases) The New York Hospital, New York, NY
Why I enjoy working at SUNY Downstate:
SUNY Downstate provides me with the opportunity to improve the health of the residents of Brooklyn, train residents and fellows in the intersection between Infectious Disease and community prevention efforts as well as have a global impact.