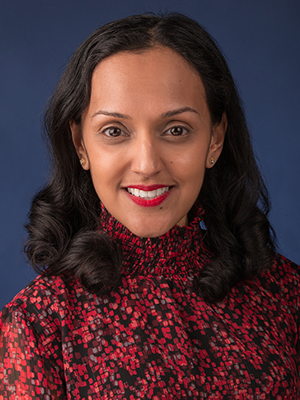 Jameela J. Yusuff, MD, MPH, FACP
Assistant Professor of Medicine
Division of Infectious Diseases
Education and Training
Position held:
STAR Health Center, Assistant Professor of Medicine, Department of Infectious Diseases, 2006-Present
School of Public Health, 2009-2012
Fellowship:
Beth Israel Medical Center, 2004-2006
Residency:
Beth Israel Medical Center, 2001-2004
Medical School:
Mt. Sinai School of Medicine, 2001
Career / Research Interests
HIV, Tobacco Cessation and HIV, Quality Assurance, and Medical Education
Publications
Park, Tae Eun, Yusuff, Jameela, Sharma, Roopali. Use of aspirin and statins for the primary prevention of myocardial infarction and stroke in patients with HIV infection." International Journal of STD & AIDS (Accepted, Article number: 585448)
Sarkar S, D'Amico R, Yusuff J, Azar E, and Perlman D.PML with Isolated Cerebellar Involvement in HIV Patients, Scandanavian Journal of Infectious Diseases January 2007 39:4, 34-350.