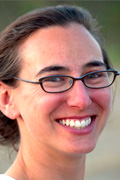 Jessica Yager, MD, MPH
Assistant Professor

Education and Training
Position held:
Assistant Professor, SUNY Downstate Medical Center, 2012-present
Acting Instructor, University of Washington, Seattle, 2012
Fellowship:
Infectious Diseases, University of Washington, Seattle, 2009-2012
Residency:
Internal Medicine, University of California, San Francisco, 2005-2008
Medical School:
Yale University School of Medicine, 2001-2005
Career / Research Interests
Linkage and retention in care in HIV, antiretroviral adherence, HIV and pregnancy, global health
Yager JE, Lozano Beltran DF, Torrico F, Gilman RH, Bern C. Prevalence of Chagas heart disease in a region endemic for Trypanosoma cruzi: evidence from a central Bolivian community. Glob Heart 2015; 10:145-50.
Yager JE, Kadiyala S and Weiser SD. HIV/AIDS, Food Supplementation and Livelihood Programs in Uganda: A Way Forward? PLoS ONE 2011; 6:e26117. doi:10.1371/journal.pone.0026117.
Yager JE, Ford ES, Boas ZP, Haseley LA, Cookson BT, SenGupta DJ, Fang FC, Gottlieb GS. Ureaplasma urealyticum CAPD-associated Peritonitis Diagnosed by 16S rDNA PCR. Journal of Clinical Microbiology 2010; 48:4310-4312.
Englund J, Zerr D, Pergam S, Kuypers J, Yager J, Boeckh M, Mattson D, Whittington N, Whimbey E, Duchin J, Uyeki T, Deyde V, Okomo-Adhiambo M, Sheu T, Trujillo A, Klimov A, Gubareva L, Kay M. Oseltamivir-Resistant Novel Influenza A (H1N1) Virus Infection in Two Immunosuppressed Patients -- Seattle, Washington, 2009. MMWR Weekly 2009; 58:893-896.
Aisenberg J, Legnani PE, Nilubol N, Cobrin GM, Ellozy SH, Hegazi RAF, Yager J, Bodian C, Gorfine SR, Bauer JJ, Plevy SE, Sachar DB. Are pANCA, ASCA, Cytokine Gene Polymorphisms Associated with Pouchitis? Long-term Follow-up in 102 Ulcerative Colitis Patients. American Journal of Gastroenterology 2004; 99:432-441.