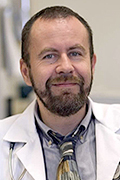 Eduard Porosnicu, MD
Clinical Assistant Professor / Hospitalist
Department of Medicine
Education and Training:
Residency:
Internal Medicine, SUNY Downstate Medical Center
Medical School:
University of TCM, Beijing, China
Career / Research Interests:
Over thirty annual talks on subjects of Palliative and End of Life Care to medical students, residents, fellows, nursing staff, clergy. Bedside teaching in internal medicine and palliative care for residents and students.
Publications:
"Fatigue" chapter, Primary Care Mentor – Green, Bierman, ed. Kaplan Q bank – Nephrology 2006
Kaplan USMLE Step 3, Oncology 2005, "Cardiovascular Primary Prevention", Primary Care Secrets, J. Mladenovic, 2003 ed.