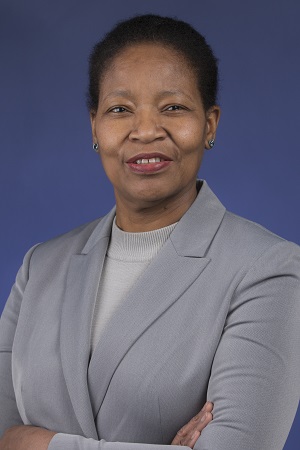 Karlene Lawrence, DNP, ANP-C
Nurse Practitioner, Clinical Coordinator
Co-Director, The Brooklyn Initiative to Develop Geriatrics Education Interprofessional Team
Dr. Karlene S. Lawrence obtained her baccalaureate nursing degree from Molloy College, in Rockville Centre with the goal of becoming a Nurse-Midwife. After obtaining a Midwifery and women's health graduate degree from New York University she practiced in outpatient settings in Queens and Brooklyn. Realizing the care of her female patients was incomplete, being unable to also care for their male partners, Karlene then obtained an Adult Nurse Practitioner post-graduate certificate. Over years of practice, it became apparent her passion was educating patients and community residents to prevent illnesses, instead of best treatment of a problem after it occurs.
Karlene received a Doctor of Nursing Practice degree from SUNY Stony Brook University, School of Nursing. She is the Clinical Coordinator and Nurse Practitioner of the Brooklyn Initiative to Develop Geriatric Education; and Co-Director of the Bridge Interprofessional Team, at SUNY Downstate Health Sciences University. This position is part of a multimillion-dollar award from the Health Resources & Services Administration's Geriatric Workforce Enhancement Program.
Her clinical practice is focused on providing evidence-based preventive care, improving health literacy of patients, community residents and their families. As a health and wellness educator/speaker/presenter, Karlene's goal is to increase awareness, comprehension and adherence to the recommended preventive health screening guidelines. Dr. Lawrence's program of scholarship and research is to improve health literacy to eliminate occurrences of health disparities, empower older adults through education to prevent diseases, promote health, and maintain wellness as they age-in-place.
Education and Training
DNP, Adult Primary Care, SUNY Stony Brook University
Post-Graduate Certificate, Adult Nurse Practitioner, Molloy College
MA, Midwifery and Women's Health, New York University
BS Nursing, Molloy College
BA Business Administration, CUNY Baruch College
Certifications and Licensure
American Association of Nurse Practitioners Certified Adult Nurse Practitioner, (ANP-C)
Registered Adult Nurse Practitioner, State of New York
Registered Nurse, State of New York
Positions
Co-Director, Clinical Coordinator, Nurse Practitioner, HRSA GWEP Brooklyn Initiative to Develop Geriatric Education Interprofessional Team, SUNY Downstate, 10/2019 - Present
Gastrointestinal Motility & Physiology Nurse Practitioner, Columbia University Medical Center, 09/2017 - 02/2018
Gastroenterology Nurse Practitioner, SUNY Downstate, 08/2015 - 09/2017
Preventive Medicine and Nutrition Nurse Practitioner, Columbia University Medical Center,

03/2012 - 12/2014

Medical-Surgical Nurse Practitioner, HHC Elmhurst Hospital Center, 10/2009 - 06/2010
Infectious Diseases Nurse Practitioner, HHC Elmhurst Hospital Center, 06/2010 - 01/2012
Occupational Health & Wellness Nurse Practitioner, Mount Sinai Queens, 04/2007-11/2008
Professional Association Memberships
American Association of Nurse Practitioners (AANP)
The New York State Nurse Practitioner Association (NPA)
Sigma Theta Tau International Honor Society of Nursing
Honors and Scholarships
Nurse Practitioner Association of Long Island (NPALI) Research Scholarship
Louis and Rachel Rudin Foundation Scholarship
New York State Advanced Nursing Education Traineeship Scholarship
New York State Primary Care Service Corps Scholarship
Jewish Foundation for Education of Women Scholarship
Invited/Peer Reviewed Presentations
National

Lawrence, KS., Reka, S., Vignesh, S., Timoney, PM. "Effectiveness of a YouTube™ Patient Education Colon Cleanse Video," Poster Presentation: American Association of Nurse Practitioners (AANP), National Conference, New Orleans, LA, JUN 2020

Regional

Lawrence, KS., Reka, S., Vignesh, S., Timoney, PM. "Effectiveness of a YouTube™ Patient Education Colon Cleanse Video," Podium Presentation: Mount Sinai Hospital, Department of Nursing, Center for Nursing Research and Innovation, Nursing Research Day, New York, NY, Nov 2019

Lawrence, KS., Reka, S., Vignesh, S., Timoney, PM. "Effectiveness of a YouTube™ Patient Education Colon Cleanse Video," Poster Presentation: SUNY Stony Brook University, School of Nursing, Research and Scholarship Symposium, Stony Brook, NY, MAY 2019
Lawrence, KS., Reka, S., Vignesh, S., Timoney, PM. "Effectiveness of a YouTube™ Patient Education Colon Cleanse Video," Poster Presentation: SUNY Downstate Department of Nursing & College of Nursing, Nursing Research and Evidence-Based Practice Conference, Brooklyn, NY, MAY 2019
Grants, Research, and Contract Awards
Grants:

HRSA 1 U1QHP33077­01­00 Cohen (PD)

Geriatric Workforce Enhancement Program

$750,000/year x 5 years

A five-year award to enhance interprofessional geriatrics education and healthcare in the Brooklyn, NY. This program targets healthcare trainees across the professions and Brooklyn's primary care providers.

Role: Co-Director

07/2019-06/2024