YEAR OF THE NURSE/MIDWIFE
Nursing Simulation: Invaluable to Healthcare!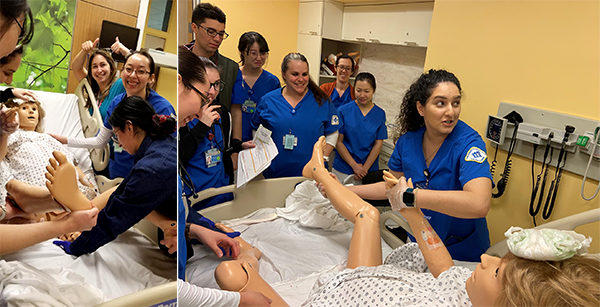 For years, nurses have practiced taking blood pressure readings on each other, learned to provide physical care on manikins and rehearsed giving injections with oranges. Thankfully, with advances in technology, learning labs, like the College of Nursing's state-of-the-art Simulation Center, include standardized patient-actors, lifelike anatomical models, and full-scale simulators/robotic manikins that exhibit signs and respond to treatment decisions in "real-time".
The importance and value of using simulation in nursing education to prepare future clinicians for practice cannot be overstated. As simulation exercises have proven to be an effective tool in managing and reducing health disparities and enhancing the patient experience.
To reinforce this understanding, the College of Nursing has embedded simulation into its core curriculum— increasingly using simulation training to practice high-risk techniques and establish safe, best-practice protocols that improve patient safety and improve health outcomes in vulnerable populations similar to our local Central Brooklyn community. Just last week, our Accelerated BS in Nursing students participated in their OB-GYN Simulation Lab dealing with intrapartum infection and pre-eclampsia. The College of Nursing uses hi-fidelity manikins to simulate a real OB nursing experience, enabling them to learn the importance of patient safety and satisfaction, medication administration, team work, and thinking critically.
Nursing Simulation, and simulation in healthcare broadly, is the replication of real-world scenarios that allow students to perform skills and learn actively. In CON's Nursing Simulation Center, an array of devices are available for use in student simulation exercises. From low-fidelity anatomical models used by students to practice injections and other skills, to high-fidelity manikins that reproduce physiologic functions, these models are programmed to respond to interventions and scenarios. Audio-video recording devices enable our students to review their performance, and medical supplies and equipment enhance the realism and authenticity of simulation.
Simulation presents opportunities to reproduce both rare and frequent clinical events in a realistic manner as often as needed. Our nurses-in-training can hone their abilities and skills—and commit every possible error—without harming real patients. While simulation has long been utilized to train nurses and other healthcare providers in CPR, it's now used, both in the College of Nursing and throughout the healthcare industry, in most nursing specialties.
As evidence of nursing simulation's far-reaching impact, there has been an increase in educational simulation grants—similar to the "Maternal Childbirth Simulation Program" grant awarded to Linda Cimino, NP, EDD, Clinical Associate Professor in the College of Nursing, from PRONTO International—in varied healthcare settings and for a wide range of patient and clinician needs.  These include radiation oncology, critical care decision-making skills, and the safe use of electronic health records.
Many thanks to our devoted CON leadership and faculty for remaining ahead of educational trends in healthcare and for working to advance, train, and elevate the clinical expertise of our nursing scholars.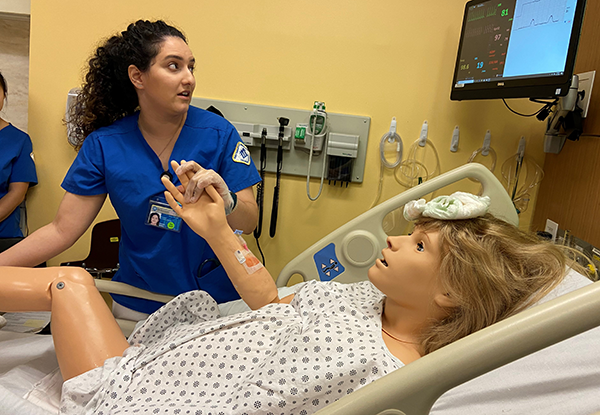 Annual Midwifery White Coat & Blessing of Hands Ceremony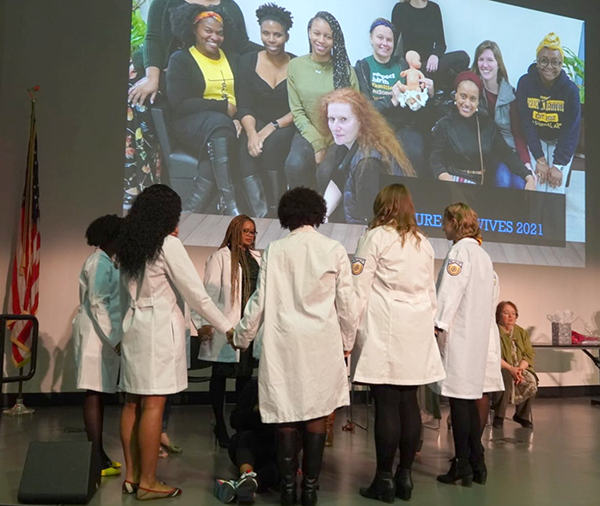 Midwifery is a particular skill that embodies a wholistic approach to healing, healthcare, and to facilitating life. In honor of the World Health Organization's designation of 2020 as the "Year of the Nurse & the Midwife," I'd like to note the symbolism behind Downstate's Midwifery White Coat Ceremony.
On February 12th, the School of Health Professions (SOHP) Midwifery Program hosted its Annual White Coat and Blessing of the Hands Ceremony, a rite of passage that emphasizes the importance of compassionate patient care as students advance through their academic journeys. Ronnie Lichtman, CNM, LM, PhD, FACNM, SOHP Midwifery Program Chair, welcomed students, noting that as they enter the clinical phase of Downstate's Midwifery Program, they are stepping into their roles as providers—promising to heal via evidence-informed, compassionate care for all women, families, communities, and populations, under the guidance of our exceptional midwifery faculty and alumni.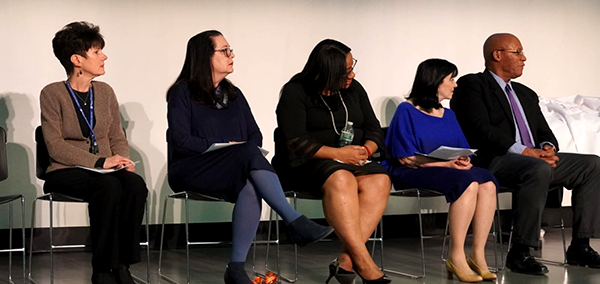 Opening remarks were given by Allen Lewis, Ph.D., CRC, Dean of the School of Health Professions, who noted that, despite the ever-evolving changes in modern healthcare delivery systems, the need for individualized, patient-centered care that respects connections with the patient, their family, and the care team continues to drive the midwife's invaluable distinction.
Dean Lewis' remarks were followed by words of empowerment and encouragement from several faculty members, followed by Suzanne Schecter, CNM, LM, MS, FACNM, Clinical Assistant Professor, Education Director and Chair of the Midwifery Admissions Committee, who led the Cloaking of White Coats portion of the program—reading the names of each midwife-in-training.
The students invited Helena Grant, CNM, LM, MS, CICP, an alumni of the program who is now Director of Midwifery, Ob/Gyn Services at NYU School of Medicine, NYC Health and Hospitals, Woodhull Hospital Affiliate Division to be their guest speaker.  Ms. Grant has been a practicing midwife for decades and has worked at SUNY Downstate and Woodhull Hospital in addition to teaching at Concordia College. Helena gave a heartfelt talk that had everyone in tears about her own experiences as a clinically practicing midwife and life coach.
The next part of the program is perhaps the most symbolic portion of the ceremony and truly embodies the role and importance of the midwife in our modern healthcare system—the Blessing of the Hands.
The Blessing of the Hands is a healthcare tradition practiced around the world, and is a custom embraced by clergymen since the era of Florence Nightingale—the 19th Century nurse lauded as founder of modern nursing. It serves as the send-off to students as they accept the privileged responsibilities of their profession and embark on their journey into the clinical setting.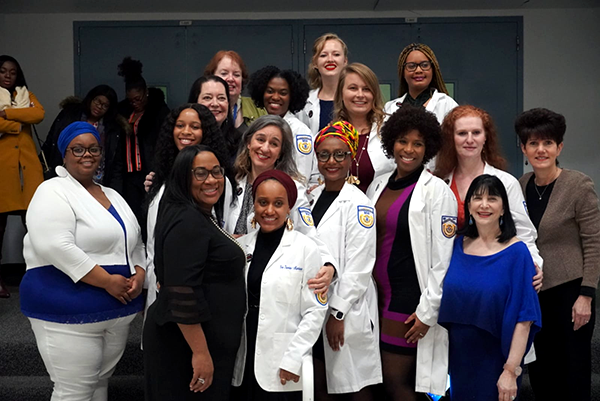 Downstate incorporated this practice into the Midwifery White Coat Ceremony because the hands play a significant role in the art that is midwifery. As human touch remains an important component of health care, the blessing is especially meaningful to midwives as it provides a spiritual experience—symbolically linking the heart, the art and the science of midwifery. Students who participate reflect upon the interconnectedness of their own humanity and the privilege to provide holistic care to their patients.
The students asked each faculty member to give words of wisdom as they embark on their clinical experiences. Dr. Lichtman told them to, "Always serve people in their care with knowledge in their mind, skill in their hands, humility in their soul, and love in their hearts."
During the Blessing of Hands, the students gathered in a circle, hand-in-hand, while Aleida Llanes-Oberstein, CNM, LM, MS, FACNM, CHSE, Clinical Associate Professor, International Project Director, Web Site Coordinator, and Continuing Education Coordinator, led the reading of Jan Weingrad's "The Hands of a Midwife" poem.
"These are my hands. Through these hands I have come to see the world.
These hands have measured the growth of life and documented the stalling of time. They guide my ears to places where I hear the watch-like beat of tiny hearts. 
My hands have felt the hard bony framework of passages and the softness of muscles, which will bulge like petals of a rose.
My hands have opened windows to the energy of the souls of those I have touched. They have held the frigid rigidity of steel instruments and the softness of a friend.
There are stories in these hands, read from the pages of the work of women. With my hands I felt the power of the strength it takes to grow and release new spirit. My hands were born with the knowing of touch.
The journey has added how and when and the time to ask for help. Teaching hands engulfed mine until they were ready to fly.
My hands are joined in a circle which is unbroken through time.
Sometimes my hands do nothing; Their most important work will be still with fingers laced and witness the 'art of doing nothing' has been passed from one generation to the next.
Mine have been taught by some of the most powerful hands, to watch and wait. This is perhaps the hardest for hands born to touch.
If I have nothing else to give you, let me teach you how to see with your hands. How to open the windows of life, and close the door softly when it is time. In the darkness, it is your hands that will light the way.
These are my hands. These are the hands of a midwife."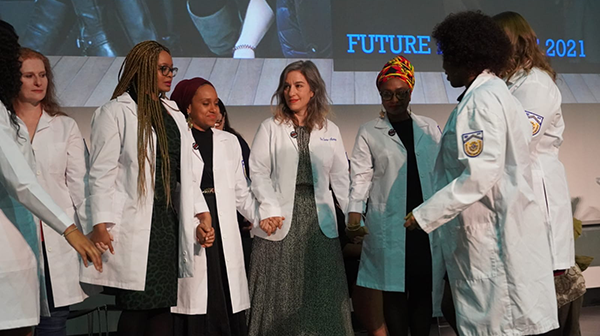 The ceremony was punctuated with embraces, as midwifery students Nicole Barclay, Esther Favueur, Victoria Grarer, Dawntress Hassell, Ellie Miller, Georgette Paulycarpe, Julia Steinrueck, Ashley Trinidad, Rosa Vuojolainen, Edine Warren, and Eva Martineau-Ocasio vowed to practice the art of midwifery with honor, integrity, and a lot of heart before their families and closest loved ones.
CONGRATULATIONS to the Midwifery Class of 2021 and many thanks to Dean Lewis, Dr. Lichtman, and to all participating students and faculty in SOHP's Midwifery Program for putting together such a beautiful program.