Featured Stories
Milestone: A Look Back at Downstate's First Graduating Class, July 24, 1860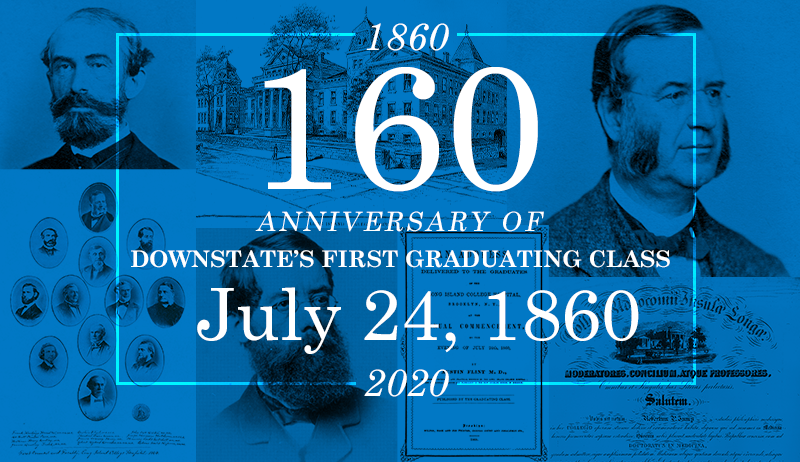 SUNY Downstate celebrated a momentous milestone on July 24th – the 160th anniversary of the first class to graduate from our founding institution, the Collegiate Division of the Long Island College Hospital, also known as LICH. The vision that launched us, the strength of our first faculty, and the excellence of our first class of students were predictive of the strong institution that SUNY Downstate Health Sciences University is today.
Downstate was the first medical school in the United States to teach clinical medicine to students at the hospital bedside—an innovative, and controversial method of instruction in 1860. So, to our students, residents, fellows, and faculty, as you make your hospital rounds, keep in mind that it was our institution that introduced this practice to American medicine.
The first class matriculated on March 29, 1860. Out of a class of 58 students, 21 would participate in the first graduation ceremony four months later. Students came from 12 states, from up and down the eastern seaboard and as far away as Colorado and California, as well as from four foreign countries. Candidates for admission were expected to have studied medicine for three years under the direction of a regular practitioner, be at least 21 years old, and to have good moral character. To graduate, students were required to submit a thesis, in their own handwriting, on a medical subject. 
Our first students studied and graduated during the run-up to the Civil War. In 1860, slavery was a major topic of discussion in Brooklyn's streets, newspapers, and church pulpits—and likely at LICH. It is interesting to note that much of the same passions are still topics of discussion today. That the leadership of LICH asked Reverend Storrs, a pastor known for his emphatic opposition to slavery, to deliver the prayer at our first graduation provides a clue that LICH strongly supported the abolition of slavery. Social justice discourse, education and advocacy are not new concepts to SUNY Downstate.
Of our first class of graduates, at least eight that we know of fought in the Civil War after graduation, three on the side of the Confederacy, and five for the U.S. Army. Reverend Dr. John Scudder was born in India and returned there to serve as head of the Government and Mission Hospital in the city of Vellore. Born in Martinique, Dr. Arthur Du Berceau, who received Downstate's first diploma, was also Downstate's first Caribbean student. His will stipulated that after his death, his diploma be returned to LICH.
In many ways, the Downstate of today is like the Downstate of yesterday. In the 160 years since our doors first opened, we continue to remain united in purpose. We were forged in innovation, grounded in excellence, have persevered through determination, and remain committed to serving our community and advancing medical knowledge. We are Downstate, and we are worth fighting for.
I'd like to extend a very special thank you to Ms. Ellen Watson, AVP in the Office of Communications and Marketing for sharing this beautifully researched and detailed piece on Downstate's history with me with me and our beloved institution.
For more information on Downstate's history, please see  Downstate's First Graduating Class, July 24, 1860 on our website and SUNY Downstate Health Sciences University – A History, by Jack E. Termine, Arcadia Publishing.