Telemedicine: Emergency Room Doctor Video Visits
Stay safe. Stay healthy.
We are here to help.
SUNY Downstate now offers Telemedicine visits by live video with an Emergency Room doctor to make it easy for you to see and speak with us, quickly and conveniently.
Treatments & Services
You can see a SUNY Downstate Emergency Room doctor for the following non-life threatening conditions or illness from the comfort of wherever you are in the State of New York:
Allergies
Animal or insect bites
Colds
Diarrhea
Earache
Eye infection
Fever
Headache
Pain
Non-narcotic prescription refills
Rash
Skin infection
Sore throat
Stomach pain
Pain with urination
Vomiting & nausea
It's simple. Book, register and see a doctor!
Welcome from the Emergency Room Medical Director
Transcript of Welcome Video (Spanish/Espanol)
Transcript of Welcome Video (Haitian Creole/Kreyòl Ayisyen)
Telemedicine Appointments
What is telemedicine?
Telemedicine is a video visit between the doctor and the patient that allows the doctor to care for the patient when they cannot make it to our hospital.
How do I book an Emergency Room doctor Video Visit?
Book an appointment online using the Book a Video Visit button above.
How do I access my Video Visit?
After you book your appointment online, a staff member will call you to register and send you instructions to see the doctor.
Once you have registered, please review these step-by-step instructions to prepare for your visit in DoxyMe.
Frequently Asked Questions
A Video Visit allows you to meet with a doctor via video when you cannot make it to our hospital. You can schedule a same day video visit appointment. 15 minutes before your appointment starts, sign into DoxyMe with the instructions. When you connect to the DoxyMe video session, your provider will be notified and will join at your appointment time.
You will need a smartphone, tablet, laptop, or desktop w/ internet connection (webcam and mic necessary if using a desktop). Google Chrome is the preferred browser, but Internet Explorer and Firefox are also compatible.
We accept all insurance plans. Video Visits have zero out-of-pockets cost to patients under most major insurance plans during this public health emergency. If you do not want to use your insurance or do not have insurance, your visit will be just $49.
Without coverage, a Video Visit costs $49. If your Video Visit results in a necessary visit to our hospital, any payment is applied to the in-hospital visit cost if you visit SUNY Downstate within 24 hours. You can also find out how to apply for insurance by calling (718) 270-1031.
We see all adults as well as children and young adults ages 0-18, who are physically located within the State of New York at the time of the Video Visit. You can schedule a Video Visit up to 24 hours in advance.
The Emergency Room doctor will call you back.
If your doctor determines that you need one, non-narcotic prescriptions are delivered electronically to your pharmacy, just like they would in-person. Narcotics may not be prescribed during a Video Visit.
Please contact us at (718) 270-2503 for assistance.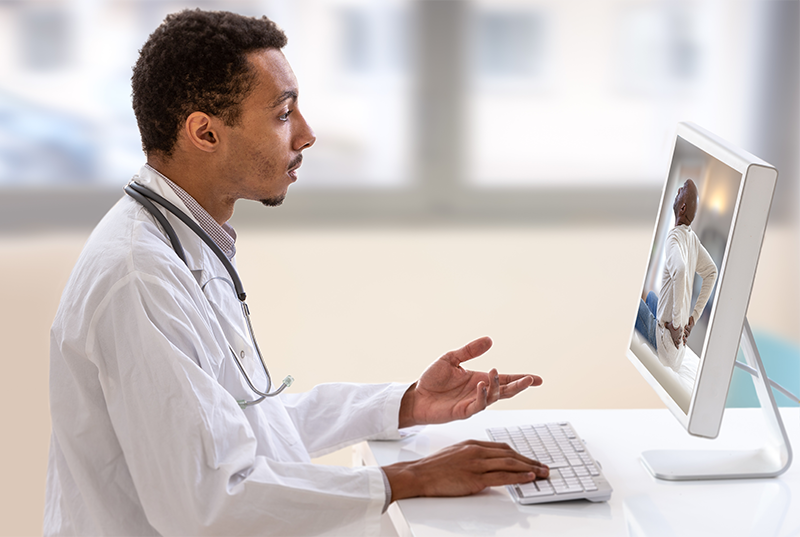 If you are having a medical emergency, call 911 or go to the nearest Emergency Room