Surgery Services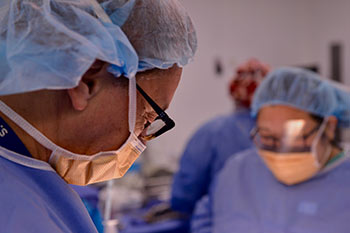 The Division of General Surgery at SUNY Downstate Health Sciences University offers comprehensive surgical care for routine and critically ill patients. Our general surgeons offer a wide variety of procedures, including:
Surgical Oncology
Colon and Rectal Surgery
Robotic Minimally Invasive Surgery
Endocrine Surgery
Pancreatic, Geriatric and Bariatric Surgery
Minimally Invasive (Laparoscopic) Surgical Procedures
Surgical Oncology
The Surgical Oncology Section provides care for patients with cancers of the gastrointestinal tract, including colon and pancreatic cancer, and breast cancer. Its faculty directs the preoperative evaluation, definitive operative treatment and long-term postoperative care of patients. The section offers a multidisciplinary approach to the treatment of cancer, working closely with the University's radiation oncologists, medical oncologists, and gynecological oncologists. It also provides outpatient screening programs .
Colon and Rectal Surgery
The Section of Colon and Rectal Surgery provides comprehensive care for patients with disorders of the colon, rectum & anus. The faculty has special expertise in the diagnosis and treatment of a wide variety of benign and malignant colorectal disorders, such as:
Hemorrhoids, Fissures, Fistulas
Inflammatory Bowel Disease, Rectal Prolapse
Diverticular Disease & Colorectal Cancer
Multidisciplinary cancer care, advanced laparoscopic surgery and outpatient colorectal cancer screening are also provided.
Endocrine Surgery
The Endocrine Section coordinates the surgical treatment of patients with a range of endocrine disorders, especially those related to benign and malignant tumors. The service is actively involved in needle biopsies and endocrine surgery of the thyroid and parathyroid. In addition, specialized expertise in pancreatic and adrenal surgery is provided.
Surgical Endoscopy
The section of surgical endoscopy provides a wide array of diagnostic and therapeutic endoscopy services. The endoscopy suite facilitates the diagnosis and treatment of gastrointestinal disorders using state-of-the-art computerized video-endoscopy equipment.
Procedures performed include:
Upper and lower endoscopy
Percutaneous endoscopic gastrostomy
Laser ablation of gastrointestinal tumors
Balloon dilatation & insertion of self expanding metal stents for gastrointestinal cancers.
Laparoscopic Surgery
Minimally invasive surgery has lasting benefits for both the patient and their physicians. The section of laparoscopic surgery coordinates minimally invasive approaches to a wide variety of operations, across several surgical specialties. The most commonly performed procedures are minimally invasive cholecystectomy and inguinal hernia repair.
We have now begun to perform minimally invasive donor nephrectomy for our living related renal transplants. In the near future, we will start a center for the treatment of gastroesophageal reflux. We are already performing laparoscopic anti-reflux procedures with excellent results. Additionally, we plan to enter the National Institute of Cancer study for minimally invasive operations for colorectal cancer and are currently developing a training program for other surgeons within the community.
Health Updates